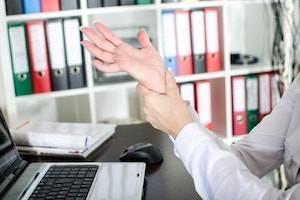 Workers' compensation is not just for those who have been injured in an accident at a job site. In fact, many people receive workers' comp benefits for repetitive injuries and injuries that are sustained in an office environment.
Carpal Tunnel Syndrome (CTS) is a fairly common condition that affects workers who use computers and well as those on factory lines. CTS often causes numbness and tingling in the hand and arm. CTS is a serious condition and an expensive one to treat.
In fact, treatment of CTS costs $2 billion annually in the United States. The cost is so high because surgery is often required. The median lost work time by those who have CTS is 27 days. This is longer than any other work-related injury with the exception of fractures. Alarmingly, about 20 percent of employees with CTS leave their job within 18 months of feeling symptoms.
...