An Accident Left Me Paralyzed. What Are My Legal Options?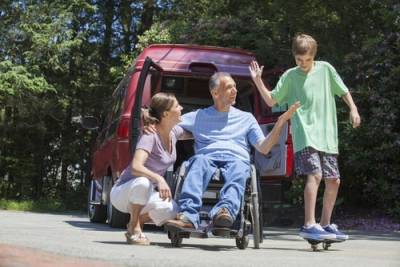 Car accidents, work accidents, falls, and other unexpected accidents happen to millions of people every day. While most accident victims walk away unscathed or with minor injuries, others are left with injuries that affect the rest of their lives.
Spine injuries are some of the most concerning accident injuries a person can suffer. The spinal cord is responsible for transferring information from the brain to the rest of the body. When the spine is injured, a person may be left fully or partially paralyzed.
Loss of Functioning Caused by Spine Damage
Most of us take our ability to walk, talk, and use our arms for granted. If you or a loved one has suffered paralysis after a car accident or other traumatic event, you know just how precious the gift of movement really is. Many paralysis victims can no longer work in their chosen profession, complete household chores, drive a car, or maintain the same level of independence they once could. Many are also left with massive medical bills and ongoing medical expenses. Fortunately, there may be a way to recoup financial compensation for damages suffered in an accident.
Seeking Justice and Compensation After an Accident
Paralysis is often a result of spine injuries suffered in a car crash, truck accident, or motorcycle accident. Spine injuries resulting in paralysis may also be the result of struck-by or caught-between accident, fall, or equipment accident at work. Some paralysis sufferers are the victims of intentional physical violence.
In Illinois, an injured person may be entitled to financial compensation for damages if his or her injury was caused by another party's negligence. The at-fault party for a spine injury may be a reckless driver, negligent property owner, careless product manufacturer, or a number of other parties.
A personal injury attorney experienced in paralysis cases can help you identify the liable parties and explore your legal options. You may be able to recover compensation for your past and future medical bills, past and future lost income, pain and suffering, and more.
Contact a Bloomingdale Car Crash Lawyer
If you or a family member suffered an injury that resulted in paralysis, you may be able to hold the at-fault party accountable and recover reimbursement for damages. You could be compensated for economic costs as well as the non-economic damages, including pain, emotional suffering, and lost enjoyment of life. To learn more, contact skilled Wheaton personal injury attorney David W. Clark. Call 630-665-5678 today and set up your free, confidential case review.
Source:
https://ilcourtsaudio.blob.core.windows.net/antilles-resources/resources/95659d58-d1eb-40f4-8d0f-64c6588a169d/30.00.pdf
WE DON'T GET PAID UNTIL YOU DO!
Free Initial Consultation
630-665-5678
Our attorneys aggressively pursue every avenue to ensure that you are properly compensated for your pain and suffering, medical costs, or lost wages as soon as possible. You pay nothing until you receive the judgment or settlement you deserve.