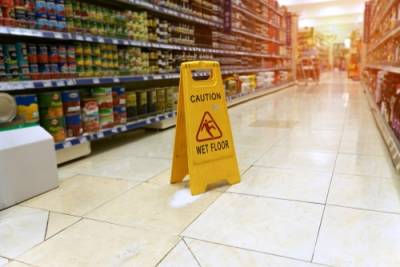 Slip and falls are a fairly common type of accident that may result in a negligence claim. Injuries from slip and fall accidents can be severe and have a major impact on your life. Proving that the owner or tenant of the place where you fell was negligent is necessary to recover damages, but can be difficult in some circumstances. If you were hurt in a slip and fall, it is very important that you contact a qualified attorney as soon as possible after the accident so that evidence can be preserved.
What Must be Proven in a Slip and Fall Case?
You and your attorney will need to prove that the person in charge of maintaining the property was careless. This involves proving that this person knew about the dangerous condition that led to your injury and failed to act. Often, the dangerous condition that caused your fall was temporary - such as the classic example of a spilled liquid on the floor. This is why timing is so important. The person responsible for the premises often cleans up the spill or otherwise remedies the dangerous condition very quickly after an accident.
Additionally, you and your attorney will need to prove that the responsible person knew (or should have known) about the dangerous condition. If you cannot prove that the responsible party was aware (or should have been) of the danger, you may not be able to recover. For example, a grocery store manager may argue that she and her staff were not aware of a spill that happened shortly before you slipped on it.
...