Legal Options after an Amusement Park Injury in Illinois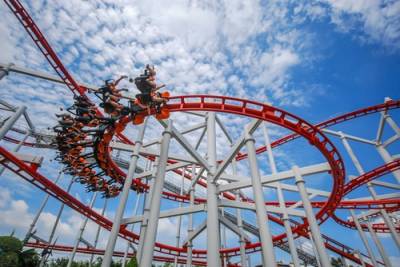 We usually hear about amusement park injuries when a catastrophic accident occurs on a roller coaster or other thrill ride. However, most amusement park injuries do not make the news. If you or a loved one were hurt in a slip and fall accident, swimming pool accident, or another accident caused by unsafe conditions at an amusement park, it is important to explore your legal options. You may be facing steep medical bills and other financial consequences because of your injuries. A premises liability claim against the amusement park may allow you to recover compensation.
Injuries at a Fair, Carnival, or Amusement Park
For many, visiting a carnival, amusement park, or other outdoor festivities is the best part of summer. However, an unexpected accident can turn a fun outing into a trip to the emergency room. The owners and managers of amusement parks, water parks, and carnivals are expected to keep the premises in a reasonably safe condition. When an unsafe condition causes a patron to be injured, the facility may be liable for damages.
Examples of unsafe conditions that could lead to an amusement park injury include:
Electrical hazards
Loose electrical cords or cables
Slippery surfaces and spilled liquids
Fire hazards
Unsanitary food preparation
Trip and fall hazards
Unsafe swimming pools
Improperly stored chemicals and hazardous materials
Loose or broken handrails
Defective stairs
Liability for an Amusement Part Accident
If you were injured at an amusement park or fell ill because of conditions at the facility, the amusement park may be to blame. The owner of the property on which the event took place may also be liable for the accident. If the injury was caused by a business within the facility, such as a food truck, that company may be the liable party. A personal injury attorney can help you determine who is legally responsible for your damages. You could be entitled to financial compensation for your emergency room and hospital bills, medication, and follow-up care. You may also be entitled to compensation for the lost income you suffered from missing work during your recovery. Compensation for non-financial harm such as your physical pain and suffering may also be available.
Contact a Bloomingdale Personal Injury Lawyer
If you suffered an injury at an amusement park, fun park, or a similar facility, you may be entitled to financial compensation for your losses. Wheaton injury attorney David W. Clark has practiced law for over 25 years. He can help you build a strong case and fight for the compensation you need. Call Law Offices of David W. Clark, P.C. at 630-665-5678 for a free and confidential consultation.
Source:
https://www.ilga.gov/legislation/ilcs/ilcs3.asp?ActID=2048&ChapterID=57
WE DON'T GET PAID UNTIL YOU DO!
Free Initial Consultation
630-665-5678
Our attorneys aggressively pursue every avenue to ensure that you are properly compensated for your pain and suffering, medical costs, or lost wages as soon as possible. You pay nothing until you receive the judgment or settlement you deserve.