What Damages Are Available in a Slip and Fall Injury Case?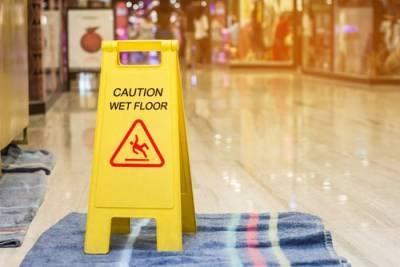 Sometimes a person falls and sustains only minor scrapes and bruises. However, some falls can cause significant personal injury. More than 800,000 people are hospitalized every year in the United States due to a serious fall accident. A slip and fall can result in broken bones, traumatic brain injury, spine or neck injury, internal organ damage, and more. When a slip and fall accident is the result of negligence, the injured party may bring a personal injury lawsuit against the negligent party or parties. The damages available in a slip and fall case will vary significantly depending on the specific circumstances of the accident.
Costs Associated with Slip and Fall Accidents
You may not think that simply falling could incur substantial financial damage, but many fall accidents leave the injured person in momentous debt. If you have experienced a serious fall, you may have needed emergency room treatment, an extended hospital stay, diagnostic tests, surgery, expensive prescription medication or medical equipment, physical therapy, rehabilitation or nursing home care, and more. Medical treatments such as these can easily cost tens or even hundreds of thousands of dollars.
Even worse, your injuries may have left you unable to work. If so, you not only incur the costs of your treatment but you also experience financial harm due to missed work. Some fall accidents can even leave a person permanently disabled and unable to continue working in their preferred profession. Injuries from a serious fall can also prevent a person from performing non-work activities such as caring for children or maintaining a home.
Seeking Compensation for Damages
Fortunately, a personal injury lawsuit brought against a negligent property owner, referred to as a premises liability lawsuit, can allow you to pursue compensation for the costs associated with a slip and fall accident. Through a premises liability lawsuit, you can pursue compensation for your:
Medical bills
Continued medical treatment
Lost income
Reduced future earning capacity
Inability to perform childcare or household duties
Of course, being seriously hurt in a slip and fall accident does not just harm a person financially. An injured person may have months or even years of horrible pain as a direct result of their injuries. They may also lose the ability to do the activities they once enjoyed. If you were injured in a slip and fall accident, you may be able to receive compensation for non-economic damages such as pain and suffering, emotional anguish, and loss of enjoyment of life. In cases involving extreme negligence or intentional wrongdoing, punitive damages may be awarded. Punitive damages are supplemental to actual damages and are designed to punish the defendant for an egregious act.
Contact an Illinois Premises Liability Attorney
Slip and fall injury cases can quickly become complex. If you or someone you know has been injured in a fall accident, contact a Bloomingdale personal injury lawyer for help. Attorney David W. Clark has over 20 years of experience successfully helping injured clients get the compensation they need and deserve. To schedule a free consultation at the Law Offices of David W. Clark, P.C., call our office at 630-665-5678 today.
Sources:
http://www.ilga.gov/legislation/ilcs/ilcs3.asp?ActID=2048&ChapterID=57
https://www.cdc.gov/homeandrecreationalsafety/falls/adultfalls.html
WE DON'T GET PAID UNTIL YOU DO!
Free Initial Consultation
630-665-5678
Our attorneys aggressively pursue every avenue to ensure that you are properly compensated for your pain and suffering, medical costs, or lost wages as soon as possible. You pay nothing until you receive the judgment or settlement you deserve.