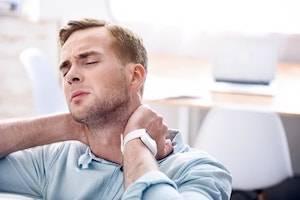 Pre-existing conditions and accidents: It happens all the time, but some accident victims unnecessarily worry that their ability to be compensated will be hurt by a prior injury or medical condition.
The truth is that Illinois law is on the accident victim's side in many of these cases, and with the help of skilled personal injury attorney, accident victims can be fully compensated for injuries sustained in accidents such as slip and falls and motor vehicle crashes, regardless of their health at the time of the accident.

Illinois Law on Pre-Existing Injuries
According to Illinois Pattern Jury Instructions 30.21, a jury will be told:
"If you decide for the plaintiff on the question of liability, you may not deny or limit the right to damages resulting from this occurrence because any injury resulted from [an aggravation of a pre-existing condition] [or] [a pre-existing condition which rendered the plaintiff more susceptible to injury]."
The instruction first requires that the jury finds one of the defendants named in the lawsuit at fault. Then, the instruction states that the jury may not "deny or limit" damages based on an aggravation of a pre-existing condition. The instruction also tells a jury that it may not "deny or limit" damages because of a condition that makes the accident victim more easily injured.
The Myth of the Perfect Accident Victim
There is no such thing as the perfect accident case or victim. Nearly everyone has some medical condition or prior injury, and it may be the case that these are implicated in the damages sustained from an accident.
Examples of prior injuries or conditions that may come into play include:
An illness or condition that causes the accident victim to incur more serious injuries. For example, if the accident victim has been diagnosed with osteoporosis, it may be the case that he or she will sustain broken bones whereas a person without that condition may not. Under the law, the jury cannot reduce the amount of damages it would award the accident victim with osteoporosis.

A prior injury to an area that had been previously injured and healed or that is actively injured. Some people have back troubles that come and go. In this example, the accident victim would be entitled to damages for the treatment of the exacerbation of the injury. This person could not be compensated for any treatment beyond what it will take to get the victim into the same health he or she was in before the accident.
Call a Wheaton, IL Car Accident Lawyer
While the law provides that an accident victim cannot be penalized for having a pre-existing condition, it is not unheard for insurers to hold such circumstances against accident victims in settlement negotiations.
This is where a lawyer who understands how the law works can help your case. A lawyer will advocate for your rights under law and take whatever steps necessary to make your case, including having you seen by a doctor. Doctors are often necessary to properly make your case.
Contact the experienced DuPage County motor vehicle crash attorney at the Law Offices of David W. Clark, P.C. at 630-665-5678 to hear what our firm can do for you and your loved ones.
Source:
http://www.illinoiscourts.gov/CircuitCourt/CivilJuryInstructions/30.00.pdf (30.21)
WE DON'T GET PAID UNTIL YOU DO!
Free Initial Consultation
630-665-5678
Our attorneys aggressively pursue every avenue to ensure that you are properly compensated for your pain and suffering, medical costs, or lost wages as soon as possible. You pay nothing until you receive the judgment or settlement you deserve.