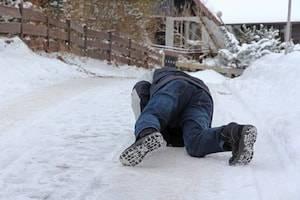 Slip and falls are very common. The Center for Disease Control estimates that one million people are sent to the hospital every year for treatment of injuries from a slip and fall accident.
Slip and fall accidents can leave victims bruised or with broken bones. In some cases, the victim can die. This is especially common among the elderly.
Slip and fall accidents can occur anywhere dangerous conditions are present, including the workplace or retail stores. Here are seven common slip and fall hazards.
Contaminants on the Floor. Liquids that spill onto the floor must be cleaned up properly because they pose a huge risk. In many cases, it is impossible to detect liquid on the floor. If a business has recently cleaned floors, it must use warning signs to alert others that the floor is wet.
Walking Surface Irregularities. Loose floorboards, uneven pavement, and unmarked curbs can all cause tripping. There are specific standards that businesses open to the public must follow with regard to the incline of the ground or unevenness of concrete walkways.
Weather Conditions: Ice and Snow. Pathways should be cleared and anti-slipping material should be applied where needed.
Inadequate Lighting. Stairways can be especially dark. Businesses must have enough lighting for a reasonable person to be able to navigate a pathway.
Lack of Handrails. There are specific guidelines with regard to where handrails must be placed so that people can safely use stairs and ramps.
Step Stools and Ladders. These are more likely to pose a danger to employees on the job.
Tripping Hazards. This category includes mats, rugs, clutter, loose cords, wires, and medical tubing.
Many of these slip and fall hazards are easily preventable. Some are caused by the business owner. Businesses and workplaces are required by law to keep their premises free of tripping hazards.
When this is not kept a priority and someone is injured, the injured person should be compensated. You could be compensated for your medical bills, pain and suffering, and lost wages.
Contact an Experienced DuPage County Slip and Fall Lawyer
The Wheaton, IL slip and fall attorney at the Law Offices of David W. Clark, P.C. can help you get compensation for your injuries from a slip and fall. With the knowledge and skills of an attorney, you can be sure that you are putting on your best case.
Our law firm works to get injured accident victims compensation, and our attorney charges no fees unless you are compensated. Call 630-665-5678 today to schedule a free evaluation.
Source:
https://www.cdc.gov/niosh/docs/2011-123/pdfs/2011-123.pdf
WE DON'T GET PAID UNTIL YOU DO!
Free Initial Consultation
630-665-5678
Our attorneys aggressively pursue every avenue to ensure that you are properly compensated for your pain and suffering, medical costs, or lost wages as soon as possible. You pay nothing until you receive the judgment or settlement you deserve.