Can I Seek Damages From the Driver Who Hit Me on My Motorcycle?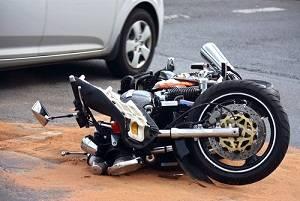 Illinois summers provide motorcyclists with ample opportunities to enjoy beautiful scenery and perfect riding weather. While riding a motorcycle can be a thrilling experience, riders lack crucial protection in accidents. A minor misjudgment or split-second mistake on the part of a car or truck driver can result in an accident that causes critical and even fatal injuries to motorcycle riders.
When a motorcyclist is hurt or killed, the rider or their surviving family may be able to file a personal injury lawsuit against the responsible party. An experienced personal injury attorney can help you do so.
Common Causes of Motorcycle Accidents
Motorcycles make up far more than their fair share of accidents and fatalities. Every year, thousands of riders are killed and many tens of thousands of riders are injured. Collisions between motorcycles and other vehicles can happen when the other vehicle's driver:
Speeds
Makes unsafe lane changes
Drives under the influence of drugs or alcohol
Stops suddenly
Drives distracted
Fails to yield the right of way
Fails to accurately assess road conditions, such as bad weather causing reduced visibility
Fails to properly maintain their vehicle or distribute a load, causing blown-out tires, falling objects, etc.
Studies suggest that in crashes involving motorcycles and other vehicles, the driver of the other vehicle is most often at fault. Many drivers fail to check carefully for motorcycles, and the smaller size of motorcycles can make them difficult to see.
Can I Sue the Other Driver if I Was Partially at Fault?
Even if you were partly at fault for the accident, as long as you are less than 50 percent responsible, you can still sue the other party for damages. The settlement you receive will be reduced in proportion to the share of responsibility that is yours. Insurance companies will try to offer settlements based on what it believes is the motorcycle driver's comparative negligence, but an attorney may be able to successfully dispute their claims. The true extent of both parties' negligence may need to be established in civil court.
A motorcyclist can sue the driver of a car who hit them for many types of damages, including medical expenses, pain and suffering, reduced quality of life, punitive damages, and more.
Meet with a Wheaton, IL Motorcycle Accident Injury Attorney
Motorcycle accidents are far more dangerous than the average car accident. If you were riding your motorcycle and were hit by a car, consider pursuing a lawsuit to receive compensation from the responsible driver with the help of an experienced DuPage County motorcycle accident lawyer with Law Offices of David W. Clark, P.C.. We also represent the families of those who have lost loved ones in motorcycle accidents. Call our offices today a Law Offices of David W. Clark, P.C. to schedule a free consultation.
Source:
https://www.ilga.gov/legislation/ilcs/ilcs4.asp?DocName=073500050HArt%2E+XIII+Pt%2E+2&ActID=2017&ChapterID=56&SeqStart=102300000&SeqEnd=105700000
WE DON'T GET PAID UNTIL YOU DO!
Free Initial Consultation
630-665-5678
Our attorneys aggressively pursue every avenue to ensure that you are properly compensated for your pain and suffering, medical costs, or lost wages as soon as possible. You pay nothing until you receive the judgment or settlement you deserve.