Can Illinois Delivery Truck Drivers File Workers' Compensation Claims?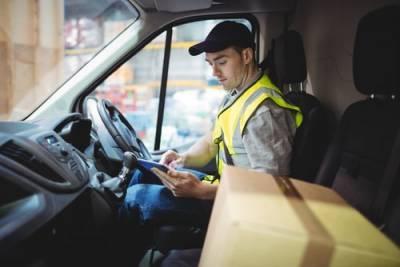 During the holidays, delivery trucks are out in full force, distributing gifts and packages to homes across the country in time for Christmas. In Illinois, winter weather can wreak havoc on road conditions. This can put truck drivers at risk for possible accidents that may result in serious injuries. However, snow and ice are not the only contributing factors to a crash, as negligent behavior by other motorists or even a trucking company can also cause a collision due to faulty or improperly maintained equipment. Delivering goods can also be a physically demanding job, especially if drivers are transporting heavy cargo that they are lifting on a constant basis. Regardless of how an Illinois delivery driver might suffer an on-the-job injury, he or she may be entitled to file a workers' compensation claim to seek damages.
Typical Risks to Delivery Drivers
Due to the nature of the job, truck driving can take a toll on the driver's body. Movements such as lifting, turning, and pushing may not seem like they could cause that much damage, but after repeatedly performing these actions, a trucker may experience significant pain. The following are a few of the most common types of injuries for delivery truck drivers:
Muscle sprains and strains from carrying heavy packages
Back and neck pain due to long periods of sitting
Broken or fractured bones due to falling from the truck bed or cab
Carpal tunnel syndrome from steering the truck
Shoulder/rotator cuff damage from lifting large materials
Joint damage from climbing in and out of the truck
Filing a Workers' Comp Claim
Illinois companies are required to carry workers' compensation insurance. This type of benefit is meant to protect both the employee and the employer. Workers' comp can help with a worker's medical bills and lost wages. In order to file a claim as a truck driver in Illinois, an important factor involves jurisdiction, or where the injury took place. Since truckers may travel outside of Illinois state lines, they need to understand how that can affect the chances of receiving benefits.
The Illinois Workers' Compensation Commission (IWCC) enforces the state's workers' compensation laws and protects workers' rights. The IWCC has authority over the following workers' comp scenarios:
The accident occurred in Illinois.
The contract for hire was in Illinois.
The employment is principally located in Illinois.
Some companies may require their drivers to sign a contract stating that even if they sustain an injury in another state while delivering, they can only file a claim in Illinois, where the headquarters is located. Filing a claim may seem intimidating at first, but a seasoned workers' compensation lawyer can help you get back on the road to recovery.
Contact a Wheaton Workplace Injury Attorney
Although they are not intentional, workplace accidents can have devastating consequences. If you or your loved one was hurt on the job, you have the right as an employee to seek compensation for your injuries. The Law Offices of David W. Clark, P.C. have represented numerous workers for injury claims and understand the Illinois workers' compensation laws. That is why it is imperative that you speak to a conscientious DuPage County workers' compensation lawyer as soon as possible. We will fight on your behalf to achieve the most favorable outcome. To schedule your free consultation, call our office today at 630-665-5678.
Source:
http://www.ilga.gov/legislation/ilcs/ilcs3.asp?ActID=2430
WE DON'T GET PAID UNTIL YOU DO!
Free Initial Consultation
630-665-5678
Our attorneys aggressively pursue every avenue to ensure that you are properly compensated for your pain and suffering, medical costs, or lost wages as soon as possible. You pay nothing until you receive the judgment or settlement you deserve.