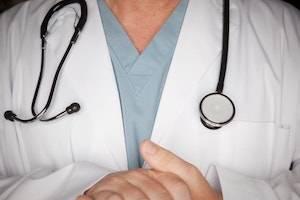 If you are injured on the job, the Illinois' Workers' Compensation Act provides that you are entitled to medical care from doctors of your choosing. However, this right is not unlimited; there are restrictions.
The Two Doctor Rule
In Illinois, injured workers must follow the two doctor rule. This rule states that the employee can select up to two doctors for treatment for a workplace injury. Under this rule, the employee will usually select a general doctor or occupational medicine specialist, who can refer the employee to an unlimited number of specialists. The referrals do not count toward the two doctor maximum.
Workers' comp will pay for all "reasonable and necessary" medical treatment for your injuries that were sustained on the job. If, after you have received care from two doctors, you then seek care from a doctor whom you were not referred, the workers' comp will not cover those visits or treatments.
If you need emergency care, that doctor will not count toward you two doctor maximum. However, if your employer takes you to a company doctor, that likely will count toward your two doctor maximum.
Why Does Doctor Selection Matter?
Doctor selection matters for several reasons.
First and most importantly, a person should not be subjected to medical treatment of which he or she does not agree. A patient and doctor should be on the same page. Forcing an employee to get treatment from an employer's choice of doctor could mean that the employee is being treated against his or her will.
Second, it could be the case that a doctor selected by the employer is more likely to find that the employee is healthy enough to return to work too soon. This can be detrimental to the health of the worker and could impact what benefits you receive.
You should choose a doctor that you are comfortable with, is well-respected in the medical field, and is familiar with the workers' comp scheme. This doctor may have to testify for you at trial.
Contact a Wheaton, IL Workers' Comp Lawyer
A doctor's opinion carries a tremendous amount of weight and can also significantly affect the handling of your treatment. This is a decision that you should feel confident making.
If you have questions about your workers' comp claim, contact the skilled DuPage County workers' comp attorney at the Law Offices of David W. Clark, P.C. at 630-665-5678.
Source:
http://www.ilga.gov/legislation/ilcs/fulltext.asp?DocName=082003050K8
WE DON'T GET PAID UNTIL YOU DO!
Free Initial Consultation
630-665-5678
Our attorneys aggressively pursue every avenue to ensure that you are properly compensated for your pain and suffering, medical costs, or lost wages as soon as possible. You pay nothing until you receive the judgment or settlement you deserve.