5 Most Common Workers' Comp Injuries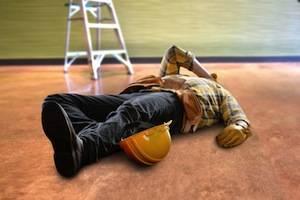 A workplace is full of conditions that present risk of injury. While construction and other industries that require physical exertion are thought of as the riskiest for on-the-job injuries, workers in every field can fall victim.
According to a review of claims filed with a workers' comp insurer, some workplace injuries are more prevalent than others. The insurer reviewed claims from 2010 to 2014 and published its findings in 2016.
The reviewed claims listed the top five most common workers' comp injuries as the following:
Strains and sprains (30 percent);
Cuts or punctures (19 percent);
Contusions (12 percent);
Inflammation (5 percent); and
Fractures (5 percent).
For most industries and business sizes, strains and sprains are the most common injury. The only type of business this is not true for is small businesses. In small businesses, cuts and punctures was the most common injury, followed by strains and sprains.
Injuries Keep Workers From the Job
While strains and sprains could seem to be minor injuries, they result in many days off the job.
For example, strains and sprains required workers to take off 57 workdays on average. For cuts and punctures, employees returned to work after 24 workdays.
Inflammation causes some of the longest breaks from work. Workers with inflammation need to take an average of 91 workdays before they are able to return. Fractures require an employee to take about 78 days from work.
Costs of Workplace Injuries
According to the insurer, the injuries that create the most costs are:
Amputations;
Dislocations;
Electric shock;
Crushing; and
Multiple trauma injuries, like breaking multiple bones at the same time.
How Workers' Comp Can Help
If you have been injured on the job, your employer is likely required to pay for your medical treatment and lost wages. You should not be out of work for months without pay nor should you (or your medical insurer) be required to pay for treatment you need to get better.
Contact a Skilled Wheaton, IL Workers' Comp Lawyer
Workers' compensation is an area of law with its own procedures and protocols. If you have been injured on the job, you do not have to fight for your treatment alone. A skilled DuPage County Workers' Comp attorney at the Law Offices of David W. Clark, P.C. can give you the benefit of experience and knowledge of the law.
Call 630-665-5678 today to set up an initial free evaluation.
Source:
http://www.insurancejournal.com/news/national/2016/05/18/409006.htm
WE DON'T GET PAID UNTIL YOU DO!
Free Initial Consultation
630-665-5678
Our attorneys aggressively pursue every avenue to ensure that you are properly compensated for your pain and suffering, medical costs, or lost wages as soon as possible. You pay nothing until you receive the judgment or settlement you deserve.