Determining Fault in Illinois Multi-Vehicle Collisions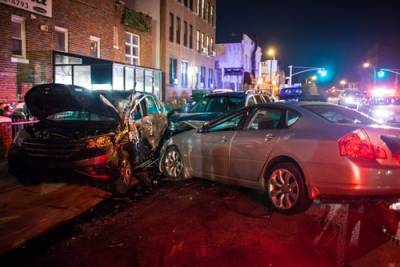 Automobile collisions can be as simple as a fender-bender, or cause fatalities. Thousands of pounds of metal colliding with each other at high speeds can be a recipe for disaster. Usually, car crashes are one vehicle hitting another, but occasionally there are multiple vehicle pile-ups or collisions. When multiple vehicles are involved in the collision, it may be difficult to determine who exactly is at fault and needs to pay damages. Determining the fault in a collision is key to a court case, and is made more difficult in multi-vehicle situations.
Modified Comparative Negligence
Fortunately, Illinois law has a system which helps determine the fault in collisions with multiple vehicles, called modified comparative negligence. With the modified comparative negligence doctrine, jurors can assign a percentage of fault to each party responsible and divvy up the damages based on the percent the plaintiff is responsible. If the plaintiff is not at fault at all, they will get more money, if they are at fault 20%, they will get 20% less than they normally would. This goes all the way up to 50%. If the plaintiff is found to be 50% or more at fault or negligent, they do not receive any damages.
This principle can be applied to multiple vehicle collisions as well. For example, if you are found to not be at fault, a second driver is found to be 10% at fault, a third driver is found to be 20% at fault, and the defendant is found to be 70% at fault, your potential compensation in the case would not be reduced, but the second and third driver's compensation would be.
Contact a Knowledgeable DuPage County Personal Injury Attorney
Many people assume they are not eligible to file a lawsuit in a collision because they believe themselves to be at fault. In Illinois, even if you were partially at fault for a vehicle collision, you may still be eligible to recover damages from the collision as long as another driver is found to be more at fault than you.
If you wish to file a lawsuit related to a multi-vehicle collision, you need an experienced Bloomingdale car accident lawyer to help you seek damages. The lawyers at The Law Offices of David W. Clark, P.C. will work with you to seek the compensation you deserve and fight for your case. Call our office today at 630-665-5678 to set up a consultation.
Source:
http://www.ilga.gov/legislation/ilcs/fulltext.asp?DocName=073500050K2-1116
WE DON'T GET PAID UNTIL YOU DO!
Free Initial Consultation
630-665-5678
Our attorneys aggressively pursue every avenue to ensure that you are properly compensated for your pain and suffering, medical costs, or lost wages as soon as possible. You pay nothing until you receive the judgment or settlement you deserve.