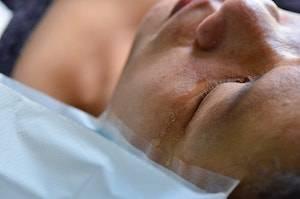 Eye injuries are commonly sustained in construction and manufacturing jobs. Even office workers are at risk of eye injury caused by computer screens. In fact, approximately 2,000 U.S. workers sustain eye injuries each day that require medical treatment, according to the Centers for Disease Control. Of these 2,000, one-third are treated in hospital emergency rooms, and about 100 eye injuries a day will result in at least one day away from work.
Five of the most common ways workers' eyes are injured include the following:
Small particles. Small particles get into the eye resulting in abrasions. Dust, wood, metal, or concrete all pose a risk. Also, small tools like staples and nails can injure the eye.
Chemicals. Chemicals can splash in the eyes. Also, fumes can irritate or burn the eyes.
Infection. Infection is a risk for workers who come into contact with blood and other bodily fluids.
Radiation. Exposure to certain light can seriously damage the eyes.
Computer eye strain. If a worker regularly uses a computer or electronic screen, temporary or permanent headaches, blurred vision, and neck and shoulder pain can result.
Protective Safety Measures
Because of the severity of eye injuries, it is critical that workers and employers take certain safety measures. Workers should use protective eyewear that fits properly and that is the right type of eye protection for the nature of the hazard. The eyewear should also allow for proper peripheral vision.
Employers should also take certain preventative measures including determining what is appropriate protective eyewear for the workplace situation.
Eye Injuries Are Covered by Workers' Comp
If you have sustained an eye injury on the job, you may qualify for workers' comp. Under workers' comp, your medical bills will be paid for by your employer. You will also be paid a set amount for any time you must take off from work.
Eye injuries can be serious and result in blindness. If you have sustained blindness or permanent disability on the job, a skilled attorney will work to help you get what you are entitled to under the law. In some circumstances, you may be able to file a lawsuit against a third party (who is not your employer) for negligence. Each case is different and should be reviewed individually.
Contact a Skilled Wheaton, IL Workers' Compensation Attorney
The DuPage County workers' comp attorney at the Law Offices of David W. Clark, P.C. can assist you with your workers' comp or third party claim. Many clients find that working with an attorney makes for a smoother process, and clients feel more confident with an attorney overseeing their case. Call 630-665-5678 to schedule your first meeting.
Source:
https://www.cdc.gov/niosh/topics/eye/
WE DON'T GET PAID UNTIL YOU DO!
Free Initial Consultation
630-665-5678
Our attorneys aggressively pursue every avenue to ensure that you are properly compensated for your pain and suffering, medical costs, or lost wages as soon as possible. You pay nothing until you receive the judgment or settlement you deserve.