Helpful Safety Tips to Prevent Pedestrian Accidents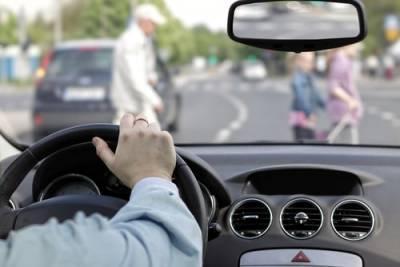 Pedestrian accidents are not uncommon in the United States. According to the Centers for Disease Control and Prevention (CDC), in 2016, around 193,366 pedestrians were injured in motor vehicle accidents and an estimated 5,987 pedestrians were killed in accidents. Pedestrian safety is especially important because at some point every day, we are all pedestrians. Compared to a vehicle, pedestrians are small and fragile, which is why extreme caution should be taken by drivers when they are around pedestrians, but pedestrians also have a responsibility to be safe and limit the possibility of an accident happening. By following these tips, both drivers and pedestrians can do their part to stay safe.
Driver Tips
Always look out for pedestrians. Even if there is not a sidewalk, there may still be pedestrians walking on the side of the road.
Be careful when driving at night or in bad weather. Pedestrians can seem to come out of nowhere and that is especially true when hard-to-see conditions are present. Do not speed in these conditions and always follow the rules of the road.
You should expect pedestrians to be in a crosswalk and by law, you are required to yield to pedestrians who are using a crosswalk. Give yourself enough space between your vehicle and the pedestrian so other vehicles can see the pedestrian, too. Never pass other vehicles at a crosswalk - they are probably stopped for a reason and you could cause an accident.
When you are in school zones or residential neighborhoods, drive slowly and cautiously. Children can jump in front of you in the blink of an eye - always follow the speed limit and go slower if need be.
Pedestrian Tips
Always follow the rules of the road, even if you are not in the driver's seat. If there are pedestrian crossing lights, listen to them. If not, use the traffic lights to your advantage and cross the street when traffic is stopped and take care to look out for drivers who are turning.
Always use a sidewalk if it is available to you - it is the safest place you can be. If there is no sidewalk, you should walk as far away from traffic as possible and walk in the opposite direction traffic is going.
Do not allow electronic devices to distract you. Looking down at your cell phone or having headphones on can be dangerous because your attention is taken off of your surroundings.
If you need to cross a road, always use crosswalks or an intersection - this is where drivers expect to see pedestrians. If you are not near a crosswalk or intersection, cross at a well-lit portion of the road and keep a close eye on traffic.
Never assume that drivers see you. Vehicles have blind spots and the bigger the vehicle, the bigger the blind spot. Always make sure you are wearing bright clothing during the day and reflective clothing at night when the majority of pedestrian accidents happen.
Get Help from a DuPage County Pedestrian Accident Lawyer
You could follow each of these rules and still end up in a pedestrian-involved car accident. If you are a pedestrian who has been involved in a car accident, you may be suffering serious injuries that are having a large impact on your life. If this is the case, you should immediately contact a Wheaton pedestrian accident attorney who can help you fight for rightful compensation. The Law Offices of David W. Clark, P.C. has over 20 years of experience in personal injury cases and can help you get the best settlement possible. Call the office at 630-665-5678 to set up a consultation.
Sources:
https://www.nhtsa.gov/sites/nhtsa.dot.gov/files/811785.pdf
https://crashstats.nhtsa.dot.gov/Api/Public/ViewPublication/812493
WE DON'T GET PAID UNTIL YOU DO!
Free Initial Consultation
630-665-5678
Our attorneys aggressively pursue every avenue to ensure that you are properly compensated for your pain and suffering, medical costs, or lost wages as soon as possible. You pay nothing until you receive the judgment or settlement you deserve.