How Can Negligence Lead to a Back Injury?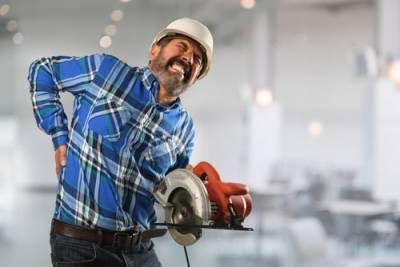 You may have heard someone say, "I threw out my back" in reference to him or her turning the wrong way or lifting a heavy object and "tweaking" it slightly. However, back injuries can be serious and life-altering. These types of injuries can occur in a car accident, in the workplace, or even outside. Debilitating back pain can even lead to months of physical therapy or surgery.
A person may not be able to work or even walk. It is estimated that approximately 80 percent of adults experience a back injury in their lifetime, with roughly 10 percent suffering a re-injury. If you were involved in an accident that was caused by another person's negligence, you may be entitled to compensation.
Common Types of Back Injuries
The back is one of the largest and most complex parts of the body. It is made of bones, muscles, and other tissues extending from the neck to the pelvis. A few of the most common kinds of injuries to the back include:
Ligament or muscle sprains and strains
Herniated, torn, or ruptured discs
Fractured or broken vertebrae
Compressed nerves
Depending on the circumstances, sudden trauma or dislocation of the spine can cause a spinal cord injury that can result in partial or permanent paralysis.
Typical Causes of Back Injuries
There are many ways that a person can hurt his or her back. Some of the reasons can range from occupational hazards to playing sports to automobile accidents. Here are a few of the most common causes of a back injury:
Car accident: Being thrown from the vehicle or slammed against the door
Bicycle crash: Falling off a bike and hitting the pavement
Slip and fall: Sliding on an icy sidewalk or stairs outside or tripping over debris at work
Repetitive actions: Constant bending or reaching
Sports injury: Colliding with equipment or another player
Proving Negligence in Illinois
When seeking compensation for a back injury in Illinois, a victim must prove that another person's negligent actions caused the injury. This means the offender owed a duty of care to the victim and he or she failed to uphold it or breached that duty, which directly led to the accident and resulting injury. Illinois law also recognizes contributory negligence, in which a victim can be found partially at fault for his or her injuries.
For example, in the case of a vehicle accident, another driver may have been drunk or distracted. This can also be true if another biker is impaired and crashes into you.
In addition, employers and property owners are required to provide a safe environment for their workers and customers. If they do not adequately clean and an employee trips over an obstacle or slips on a wet floor, this can be considered negligence. Companies must also allow employees to take breaks, which can reduce the chances of repetitive injuries, such as carpal tunnel syndrome.
Contact a Bloomingdale Personal Injury Attorney
Back pain can render a person unable to function at a job or perform everyday activities. If you or a loved one were injured due to another's negligence, you may be able to seek damages for your pain and suffering as well as lost wages. At the Law Offices of David W. Clark, P.C., we understand the consequences that a back injury can have on the rest of your life. That is why it is important to speak to our skilled DuPage County back injury lawyers who can review the details of your case to determine liability. Call us today at 630-665-5678 to schedule your free consultation.
Sources:
https://www.thegoodbody.com/back-injury-statistics/
https://www.webmd.com/back-pain/guide/pain-management-back-pain#1
http://www.ilga.gov/legislation/ilcs/fulltext.asp?DocName=073500050K2-1116
WE DON'T GET PAID UNTIL YOU DO!
Free Initial Consultation
630-665-5678
Our attorneys aggressively pursue every avenue to ensure that you are properly compensated for your pain and suffering, medical costs, or lost wages as soon as possible. You pay nothing until you receive the judgment or settlement you deserve.