I Fell on Icy Pavement at Work. Can I Get Workers' Comp?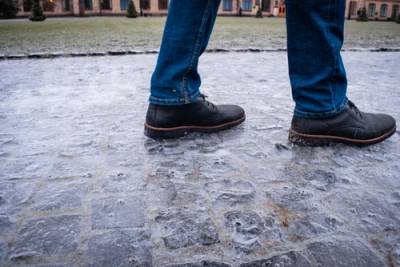 Anyone who lives in the Chicago region can tell you that winters are bitter cold. Freezing winters often bring about increased risk of injury – especially injuries from slipping and falling on ice. If you were hurt in a workplace slip and fall accident on ice or snow, you may wonder if you qualify for workers' compensation. Unfortunately, the answer is not straightforward. Many different factors can influence a worker's entitlement to compensation, including where and when the accident occurred and the circumstances that caused the injury.
Snow and Ice Injuries
Winter weather can create icy patches that are practically invisible. Slipping and falling on an icy or snowy patch of pavement can lead to traumatic brain injuries, spine injuries, and other serious injuries. The injured person may be out of work for weeks or months. They may need extensive, costly medical care. In some cases, an individual injured in a slip and fall on ice may be entitled to workers' compensation. However, multiple factors affect an injured worker's ability to recover compensation through worker's comp, including:
The location of the slip and fall – To qualify for workers' comp, the injury must occur at work. If the employer owns the walkway or parking lot on which the slip and fall occurred, the employee may qualify for compensation. However, if the employee was hurt on a public sidewalk, he or she may not qualify for workers' compensation.

The time of the accident – Employees must be conducting job duties at the time of the injury to qualify for workers' compensation. Injuries that occur walking to and from your workstation may also qualify. However, if a worker is at the job location after work hours or conducting non-work duties, he or she may not qualify for compensation.

The circumstances of the fall – In Smith v. Illinois Workers' Compensation Comm'n an employee slipped on snow and fell in the parking lot while leaving work. She was initially denied workers' compensation because the injured employee was harmed by a natural accumulation of snow and ice. However, the denial was reversed by the appellate court because the "unnatural accumulation" doctrine typically applies to personal injury cases, not workers' compensation cases. The circumstances of the injury may play into your entitlement to workers' compensation.
Contact a Bloomingdale Workers' Compensation Lawyer
Workers' compensation cases involving snow and ice injuries are extremely complicated. If you were injured in a slip and fall accident, contact a Wheaton workers' compensation lawyer for personalized guidance and advice. Call Law Offices of David W. Clark, P.C. at 630-665-5678 for a free consultation today.
Source:
https://casetext.com/case/smith-v-ill-workers-comp-commn-3
WE DON'T GET PAID UNTIL YOU DO!
Free Initial Consultation
630-665-5678
Our attorneys aggressively pursue every avenue to ensure that you are properly compensated for your pain and suffering, medical costs, or lost wages as soon as possible. You pay nothing until you receive the judgment or settlement you deserve.