Injury or Illness and Reasonable On-The-Job Accommodations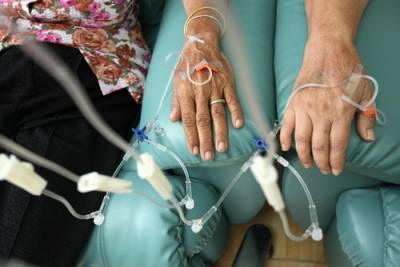 When workers are injured or become ill it is not uncommon for them to take advantage of disability leave time in order to mend and heal. However, in some cases, an employee is able to work while undergoing treatment for an illness or accept a light-duty role. In such scenarios, it is important to ensure employers are making reasonable accommodations despite one's inability to perform their job at the same level as prior to the injury or illness.
Suburban Police Officer Battling Cancer and Employer
In one case, a suburban police officer is claiming his municipal employer is guilty of violating the American with Disabilities Act (ADA) when it terminated a light-duty assignment he was performing while undergoing and recovering from treatments for cancer:
Diagnosed in 2016, the officer began chemotherapy 10 days after doctors discovered the disease.
Within weeks he contacted the department because he felt well enough to work, albeit in a less-than-full capacity, indicating he would rather work, even at a diminished capacity, than merely collect disability.
An assignment working six-hour shifts in the records department was approved.
In March of 2017, he was summoned to the village's Human Resources office after informing them his doctors were ordering an additional six months of treatment.
It was in that meeting, according to the plaintiff, he was asked about a definite timeline for his recovery and return to full duty status.
He was subsequently notified that his light-duty assignment was being terminated, which led to his claim of an ADA violation.
While the officer has returned to full duty, he is continuing the case so that others after him are treated more fairly. He is seeking an acknowledgment from the village that they mishandled his case, and increased training of its employees as it pertains to federal and state laws regarding the protection of ill or injured workers.
Enlist the Help of an Experienced DuPage County Loss of Earning Capacity Lawyer

Whether or not an injury or illness is job-related, your desire to continue working – even in a reduced capacity – should not be met. In some cases, keeping busy can make all the difference in one's healing process. To make sure reasonable accommodations are afforded you, retain the services of a knowledgeable Wheaton injury lawyer to help you obtain the proper relief to which you are entitled. The Law Offices of David W. Clark, P.C. will review your case, make informed decisions and pursue justice on your behalf. To schedule a free initial consultation please call their offices and set up a meeting to discuss your case and learn how they can help you.
Sources:
http://www.chicagotribune.com/news/local/breaking/ct-met-police-officer-cancer-lisle-20171218-story.html
http://www.asaging.org/blog/issues-impacts-and-implications-aging-workforce
WE DON'T GET PAID UNTIL YOU DO!
Free Initial Consultation
630-665-5678
Our attorneys aggressively pursue every avenue to ensure that you are properly compensated for your pain and suffering, medical costs, or lost wages as soon as possible. You pay nothing until you receive the judgment or settlement you deserve.