Is Using Cruise Control Dangerous?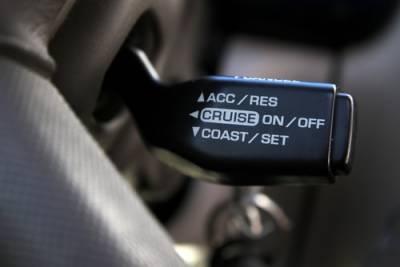 Cruise control is a convenience included on many vehicles today. Cruise control is a way to automatically control the speed of your vehicle when driving. Instead of keeping your foot on the gas pedal and constantly shifting up and down a few miles per hour, you can set cruise control to stay at a more consistent speed. Many drivers use cruise control because it is convenient, allowing them to be more comfortable on long trips and it allows them to make sure they are under the speed limit. However, some drivers do not use cruise control because they worry it is more dangerous than driving normally.
Safety Depends on the Driver
A study published by a French foundation, VINCI Autoroutes Foundation for Responsible Driving, indicated that there are some disadvantages to using cruise control. The disadvantages were related more to the driver's attentiveness than the mechanics of cruise control. When the drivers in the study had cruise control enabled, they were overall less attentive when driving and had longer reaction times.
The results of the study also indicated that drivers who used cruise control had greater difficulty when overtaking another vehicle and when merging into traffic. When drivers have the cruise control on, they are paying slightly less attention to the world around them, which can increase risk of injury or collision with other vehicles. Drivers were also more prone to becoming drowsy when using cruise control instead of controlling the car's speed manually.
Breaks and Constant Vigilance
Since cruise control is used so much for longer trips, it is recommended that drivers take breaks to gain some energy back and lessen the likelihood of a crash. It is also beneficial to turn off the cruise control in certain situations, such as construction zones or high-density traffic. If proper care is taken when using cruise control it will reduce the likelihood of a collision.
Contact an Experienced DuPage County Traffic Accident Attorney
Cruise control can be a convenience for many people but may cause accidents due to less attentiveness by drivers. If you have been injured in an automobile collision and wish to pursue compensation, you need a knowledgeable Bloomingdale car accident lawyer to assist you. The lawyers at The Law Offices of David W. Clark, P.C. will work with you to pursue the compensation you desire. Call our office today at 630-665-5678 to set up a consultation.
Source:
http://www.bbc.com/autos/story/20130808-is-cruise-control-dangerous
WE DON'T GET PAID UNTIL YOU DO!
Free Initial Consultation
630-665-5678
Our attorneys aggressively pursue every avenue to ensure that you are properly compensated for your pain and suffering, medical costs, or lost wages as soon as possible. You pay nothing until you receive the judgment or settlement you deserve.