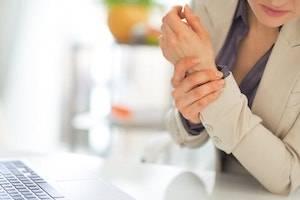 When people think of an injury that would be covered by workers' compensation, they often think of an accident that causes sudden pain and trauma like a fall off a ladder, an electrocution, or a forklift accident. However, one of the most common on-the-job injuries is a repetitive stress injury. These injuries are caused by making the same movement over and over. The movements need not be strenuous to cause this type of injury.
The onset of symptoms related to a repetitive stress injury should not be written off by the worker as a sign of aging or as part of the job. The workers' comp system does provide for medical treatment and benefits for this type of injury.
Computer Work is a Major Cause of a Repetitive Stress Injury
The proliferation of computers and tablets used in the workplace have played a significant part in the increasing number of repetitive stress injuries. Typing, tapping a screen, and using a mouse—especially in a non-ergonomic way—can cause carpal tunnel syndrome, bursitis, and tendonitis.
Other Jobs that Lead to Repetitive Stress Injuries
The Occupational Safety and Health Administration (OSHA) estimates that there are over 100 kinds of repetitive stress injuries. Examples of jobs that commonly report this type of injury:
Manufacturing employees;
Construction workers;
Supermarket cashiers;
Butchers;
Stockists;
Musicians; and
Mechanics.
Even jobs that require standing for long periods of time on hard surfaces have been known to produce repetitive stress injuries.
Reporting the Injury to Your Employer
The first step in getting help for your injury caused by repetitive stress is to inform your employer. You should tell your employer as soon as you experience any measurable pain, tingling, loss of motion or strength, or numbness.
Because repetitive stress injuries are not the quintessential workers' comp injury, some employers may not take your complaints seriously. If your employer does not get you appropriate medical treatment as required by workers' comp law, you may need an attorney to get you all the benefits to which you are entitled.
Contact a Bloomingdale, IL Workers' Comp Lawyer
If you are injured on the job, you should receive adequate medical care and the other benefits you are entitled to under workers' comp. Call the experienced Bloomingdale workers' comp attorney at the Law Offices of David W. Clark, P.C. at 630-665-5678 to learn more about what options you should pursue.
Source:
http://www.ilga.gov/legislation/ilcs/ilcs3.asp?ActID=2430&ChapterID=68
WE DON'T GET PAID UNTIL YOU DO!
Free Initial Consultation
630-665-5678
Our attorneys aggressively pursue every avenue to ensure that you are properly compensated for your pain and suffering, medical costs, or lost wages as soon as possible. You pay nothing until you receive the judgment or settlement you deserve.