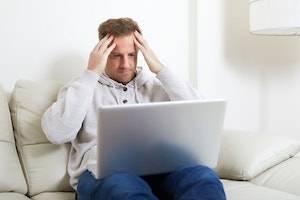 Posting on social media can be detrimental to your workers' comp claim. Anyone injured, being treated, or receiving benefits should be aware of what is being posted online, both by the injured worker and friends and family.
Malingering, or pretending to have a medical condition, is a huge issue in workers' comp cases about which employers are concerned. There are numerous medical tests and evaluations meant to detect malingering in injured workers.
An opposing party in a claim will try to gather as much information as possible, especially if that information could be used as evidence of malingering, including meticulously looking through any viewable social media.
Are You 'Friends' on Social Media with People from Your Job?
This concern of what gets posted on social media is especially relevant to workers' comp cases. Often, accident victims involved in a personal injury suit decide to make their profile private, which may be a sufficient step for protecting your privacy from insurance adjustors. However, with workers' comp cases, many people are "friends" with co-workers and supervisors.
In such cases, the best course of action is generally to refrain from posting about your accident and your health. It is also important to think about how a post could be construed by someone who doubts the veracity of your injuries.
Social Media Posts Can Portray the Wrong Message
In some cases, workers' comp claimants have been caught "red handed." For example, they claimed to have an injury that would keep them from working. However, a photo or social media post suggests that the limitation does not exist.
It is important to remember that pictures that capture a moment in time can give off an impression that is different from reality. For example, a picture of you having fun at a party may not tell the full story: You could have needed to leave after only a short time or you could have been having an uncharacteristically good day. However, people view photos as unimpeachable, "what you see is what you get" evidence.
Call a Bloomingdale, IL, Workers' Comp Lawyer
By retaining an attorney, you can be sure that your claim is being handled properly and that all procedural rules specific to workers' comp have been followed. You can also be sure that you have a professional looking after you and your case and someone who can advise you on what steps you should and should not take.
Call the accomplished Bloomingdale workers' comp attorney at the Law Offices of David W. Clark, P.C. at 630-665-5678 to schedule your first meeting today.
Source:
http://www.newsweek.com/10-ways-facebook-can-ruin-your-life-222948
WE DON'T GET PAID UNTIL YOU DO!
Free Initial Consultation
630-665-5678
Our attorneys aggressively pursue every avenue to ensure that you are properly compensated for your pain and suffering, medical costs, or lost wages as soon as possible. You pay nothing until you receive the judgment or settlement you deserve.