Staying Safe While Riding a Bicycle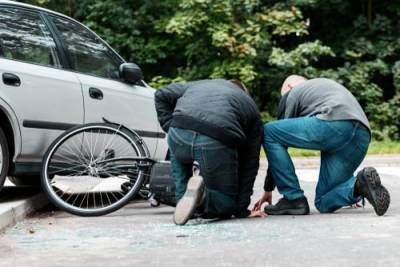 One of the major uses of a bicycle has always been for children to ride. However, now there is an increase in cyclists of all ages. The increase is for a variety of reasons, including physical exercise and environmental consciousness. Each year from 2011-2017 also included an increase in cycling fatalities and injuries. In 2017 there were 783 bicyclists killed in motor vehicle crashes, with many more being injured. Compared to the number of motor vehicle fatalities, that may not seem like many, but most fatalities can be prevented by enacting some basic safety procedures.
Safety Tips
The first tip given to anybody, child or adult, riding a bicycle is to wear a helmet. A helmet protecting your head can prevent concussions or worse from happening when impacting the pavement or an obstacle. Many people do not wear a helmet because they don't like the way it looks or feel it is unnecessary. If a bicycle crash does happen, people not wearing a helmet will wish they were wearing one.
Defensive riding is also key when riding a bicycle. Bicyclists do not have the protection of 2,000 pounds of metal around them so it is much easier to fall and hurt yourself on a bicycle if you are involved in a crash with a vehicle. In a collision between a vehicle and a bicycle, the vehicle is barely going to be affected. It is a bad practice to blow through intersections and not pay attention to your surroundings while on a bicycle for that very reason. Making sure to signal your turns well beforehand and not assuming that vehicles will stop for you will also make you safer while biking.
Bicyclists should also make sure their bicycle is properly reflective, especially if they are riding at night at all. Reflective surfaces and lights on your bicycle make drivers and other bicyclists aware of your presence so they can take the necessary precautions. If you are riding around at night without any reflective surfaces or lights it is very dangerous and hard for motorists to see you.
Contact a Knowledgeable DuPage County Personal Injury Attorney

If you wish to file a lawsuit related to a bicycle crash where you were injured, you need an experienced Bloomingdale personal injury lawyer to help you pursue compensation. The lawyers at The Law Offices of David W. Clark, P.C. will work with you to seek the damages you deserve and fight for your case. Call our office today at 630-665-5678 to set up a consultation.
Source:
https://www.ghsa.org/issues/bicyclists-pedestrians
WE DON'T GET PAID UNTIL YOU DO!
Free Initial Consultation
630-665-5678
Our attorneys aggressively pursue every avenue to ensure that you are properly compensated for your pain and suffering, medical costs, or lost wages as soon as possible. You pay nothing until you receive the judgment or settlement you deserve.