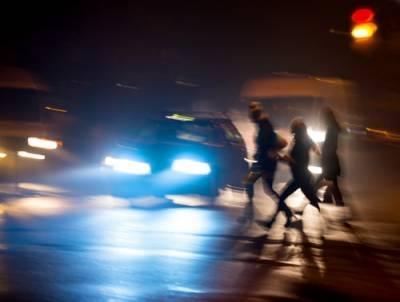 Some people may think walking is a safe way of getting to and from places. However, a pedestrian traveling down the street or in a designated crosswalk can be at risk of being struck by a vehicle, motorcycle, or even a bicycle. The sheer force of the impact in any type of pedestrian accident can result in serious injuries or possibly death. The majority of pedestrian deaths take place on local streets at night, suggesting the need for safer road crossings, signage, lighting, in addition to distracted driving prevention measures. According to the Governors Highway Safety Association, nighttime collisions made up more than 90 percent of the total increase in pedestrian fatalities in the last 10 years.
Types of Pedestrian Injuries
Pedestrian accidents can occur when someone is going for a run, taking a stroll, or simply standing on a sidewalk. Regardless if a pedestrian is struck by an automobile, motorcycle, bus or truck, injuries suffered are likely to be much more severe than if the person was a passenger in a car. For a pedestrian, there is no protection between the body and the vehicle to soften the blow. In some cases, a victim may need surgery, extensive rehabilitation, or even amputation. A person is often unable to return to work because of chronic pain or brain damage, which results in hardship due to lost wages. The most common types of injuries a pedestrian can suffer after being struck by any type of vehicle or cycle include:
Broken or fractured bones
Traumatic brain injury (TBI)
Neck injuries resulting in whiplash or fractured vertebrae
Back/spinal cord damage or paralysis
Internal bleeding
Damage to joints, shoulders, or knees
Causes of Pedestrian Injuries
The risk of a pedestrian accident is heightened at night compared to daytime. The increase in nighttime pedestrian fatalities may be attributed to poor street lighting or a lack of traffic enforcement patrols. There are many dangerous driving behaviors, such as speeding or distracted/impaired driving that can also put pedestrians in harm's way.
...