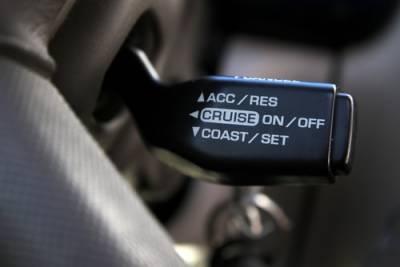 Cruise control is a convenience included on many vehicles today. Cruise control is a way to automatically control the speed of your vehicle when driving. Instead of keeping your foot on the gas pedal and constantly shifting up and down a few miles per hour, you can set cruise control to stay at a more consistent speed. Many drivers use cruise control because it is convenient, allowing them to be more comfortable on long trips and it allows them to make sure they are under the speed limit. However, some drivers do not use cruise control because they worry it is more dangerous than driving normally.
Safety Depends on the Driver
A study published by a French foundation, VINCI Autoroutes Foundation for Responsible Driving, indicated that there are some disadvantages to using cruise control. The disadvantages were related more to the driver's attentiveness than the mechanics of cruise control. When the drivers in the study had cruise control enabled, they were overall less attentive when driving and had longer reaction times.
...