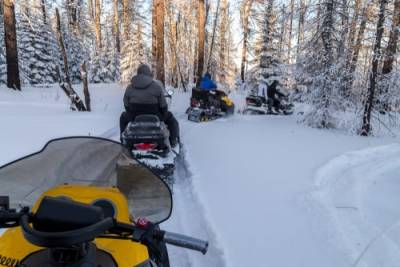 Wintertime is an opportunity for engaging in snow sports, such as sledding, skiing, snowboarding, ice skating, and snowmobiling. The snowmobile was originally used to transport people and supplies when traditional vehicles could not get through heavy snow. Snowmobiling has evolved to become a popular winter sport enjoyed by millions of people of all different ages. For those who do not mind the cold, it is an ideal way to get outside and enjoy the winery landscape. It is important to note, however, that modern snowmobiles can weigh in excess of 600 pounds and travel at speeds of 90 miles per hour or higher. Studies show that snowmobile accidents cause approximately 200 deaths and 14,000 injuries each year in the United States. Many factors can cause a snowmobile crash, including the negligent actions of other drivers or manufacturers of the vehicle.
Common Snowmobile Injuries
Many people take their snowmobiles out for rides in wooded areas due to the breathtaking landscape with snow-covered trees. However, this can also prove dangerous and put riders at great risk. The high speeds combined with the terrain can result in deadly consequences if a person crashes while snowmobiling. If an operator loses control of the snowmobile, he or she can strike a tree, rock, or snowbank.
In addition, a rider can collide head-on with another rider if one of them cannot turn out of the way in time. Helmets and other protective gear such as goggles, gloves, jackets, and snow pants can help protect a driver and any passengers by alleviating some of the injuries in a collision, but they cannot prevent them altogether. In some situations, a snowmobile may flip over and land on top of a rider and his or her passenger, crushing them. Not only can they suffer significant injury from the sheer weight of the vehicle landing on them, but if they lose consciousness, they could be exposed to the frigid temperatures for a period of time until help arrives. That is why it is always a good idea to travel in pairs or alert others when and where you are going.
...