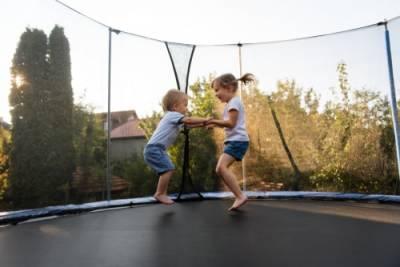 Jumping on a trampoline can be fun for people of all ages, not just kids. It is a great form of exercise and can help users develop core muscle strength as well as strengthen their balance. Trampolines can be enjoyed outside in someone's yard or inside at a facility. Unfortunately, thousands of people are injured on trampolines every year in the United States. Injuries can range from minor to major, such as small cuts to broken legs to fractures of the spine, head, ribs and more. The number of injuries continues to rise, despite efforts to make trampolines safer with enclosures or nets and padding. Children younger than 6 years old are at the greatest risk of injury, but adults can be hurt, too. Accidents happen, but in some cases, a trampoline injury might occur due to negligence by the trampoline's owner.
Types of Injuries
The majority of trampoline injuries occur on home trampolines, although they can happen on indoor trampolines, too. Indoor trampoline "parks" have gained popularity in recent years since people can visit them in the winter months when the weather is bad outside. Common injuries sustained on any trampoline can include:
Broken bones
Concussions and other head trauma
Sprains/strains
Bruises, scrapes, and cuts
How Injuries Occur
As with any type of physical activity or sport, there are inherent risks. Guests of indoor parks are typically required to watch a safety video and sign a waiver before entering the jump zones. Although these indoor facilities often have pads surrounding the jumping areas, people can still get hurt. Many injuries take place when there is more than one person jumping or flipping on a trampoline. In addition, any objects such as balls or toys on the trampoline surface can also pose significant risks by tripping or slipping and falling. A person can also get hurt when he or she:
...