Understanding Accidents Involving Pedestrians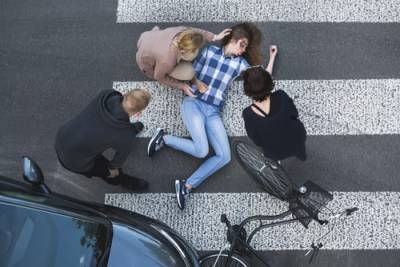 Everyone is a pedestrian at some point during the day--whenever you are not in your vehicle, you are a pedestrian. Unfortunately, the National Highway Traffic Safety Administration (NHTSA) has reported that pedestrian accidents and fatalities have been rising since 2009--one of the few groups to see an increase in fatalities. In 2016, there were nearly 6,000 pedestrian fatalities, the highest number of pedestrian fatalities in one year since 1990. In Illinois alone, pedestrians accounted for nearly 14 percent of traffic fatalities. Everyone is at risk for getting into an accident as a pedestrian and these accidents can cause serious and severe injuries, if not death. It is important to understand how you can do your part - as a driver and as a pedestrian--to keep yourself and others safe.
Risk Factors For Pedestrian Accidents
Fortunately, there are trends in who is involved in traffic accidents, the environment they take place in and when they take place. Trends like these are used to make decisions on how pedestrian accidents and fatalities are addressed.
Age
The NHTSA reported that in 2016, children between the ages of 10 and 14 had the highest percentage of pedestrian traffic fatalities, along with adults aged 50 to 54-years-old. These numbers were closely followed by adults between the ages of 55 and 59, and 60 and 64-years-old.
Environmental Conditions
The NHTSA also reported that most pedestrian accidents occurred in urban locations when it was dark outside. Over half of pedestrian accidents occurred between the hours of 6 p.m. and midnight, no matter what season it was.
Alcohol Use
Some sort of alcohol use or involvement was reported in 48 percent of traffic crashes that caused pedestrian fatalities in 2016. That percentage includes alcohol use by either the driver and/or the pedestrian.
Safety Tips
As a pedestrian, use this tips to protect yourself from possible traffic accidents:
Always obey all traffic signs and signals. Do not walk through intersections unless the pedestrian light signals you to do so;
Always use the sidewalk if it is available. If there is no sidewalk, walk in the direction facing traffic and as far away from it as possible;
Do not allow your electronic devices to distract you. Not paying attention to your visual or audible surroundings can pose a danger;
Never assume a driver can see you. Always use caution and be visible at all times by wearing reflective clothing or carrying a flashlight with you if it is dark; and
Do not use alcohol or drugs if you know you will be walking somewhere--they impair your judgement just as much as if you were driving a car.
Get Legal Advice from a Will County Pedestrian Accident Attorney
Pedestrian accidents can leave victims with lifelong injuries and disabilities--or it could even lead to death. If you or a loved one has suffered from a pedestrian-related injury or death, you should contact a Wheaton pedestrian accident lawyer. By contacting the Law Offices of David W. Clark, P.C., you can receive rightful compensation for damages you may never recover from. Contact the office by calling 630-665-5678 to set up a consultation.
Sources:
https://crashstats.nhtsa.dot.gov/Api/Public/ViewPublication/812493
https://www.cdc.gov/motorvehiclesafety/pedestrian_safety/index.html
https://www.nhtsa.gov/sites/nhtsa.dot.gov/files/811785.pdf
WE DON'T GET PAID UNTIL YOU DO!
Free Initial Consultation
630-665-5678
Our attorneys aggressively pursue every avenue to ensure that you are properly compensated for your pain and suffering, medical costs, or lost wages as soon as possible. You pay nothing until you receive the judgment or settlement you deserve.