What Are Common Injuries Suffered By Child Passengers in a Car Crash?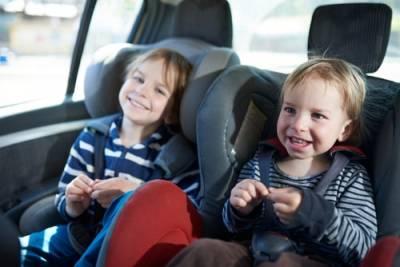 According to the Centers for Disease Control and Prevention (CDC), automobile accident injuries are a leading cause of fatalities among children in the United States. Studies show that many of these deaths can be prevented when safety restraints and car seats are used properly. However, kids can still suffer serious injuries in collisions even when safety precautions are taken. After any accident, emergency responders should be called to assess the physical injuries and vehicle damage. In some cases, a negligent driver who was intoxicated or distracted may have caused the accident. An experienced personal injury attorney can help you with the legal steps for pursuing compensation for your child's pain and suffering.
Head Trauma
According to the National Institutes of Health, head injuries are one of the leading causes of trauma sustained by children in crashes. Because kids are smaller than adults, they are sometimes more vulnerable in the event of an accident. These types of head injuries may include:
Traumatic brain injury (TBI)
Concussion
Whiplash
Contusions
Skull fractures
Broken Bones/Fractures
Like adults who are involved in a crash, children passengers may try to brace for impact and in the process suffer hand, arm, wrist, or foot fractures. They can also sustain a broken pelvis or spinal cord damage if they become trapped in the vehicle. Children who are thrown from the vehicle may sustain a broken femur, back, or neck.
Cuts/Lacerations/Abrasions
When two or more vehicles collide, the force of the impact can cause the vehicles' windows to break. Shattered glass can strike any of the car's occupants, resulting in deep cuts or lacerations. If a child is struck in the face, it can cause permanent scarring, disfigurement, and even damage to his or her teeth.
Psychological Damage
Being involved in a car accident can be frightening, even for adults. For children, it can cause anxiety and a long-term fear of riding in the car. Even at a young age, kids can experience post-traumatic stress disorder (PTSD). PTSD can cause nightmares, insomnia, eating disorders, and more.
Contact a DuPage County Personal Injury Lawyer
Any type of automobile crash can cause devastating consequences. However, when those involved include children, the injuries can be life-threatening or even fatal. If you or your child suffered debilitating injuries in a car accident, it is imperative that you seek professional legal counsel to understand your options for seeking compensation. At the Law Offices of David W. Clark, P.C., we have more than 20 years of experience handling all types of personal injury cases. Our seasoned Bloomingdale car accident attorneys will carefully analyze the details of your collision to determine liability and hold the negligent party responsible. To schedule your free consultation, call us today at 630-665-5678.
Sources:
https://www.cdc.gov/motorvehiclesafety/child_passenger_safety/cps-factsheet.html
https://pubmed.ncbi.nlm.nih.gov/22649884/#:~:text=The%20most%20common%20cause%20of%20head%20injuries%20in,and%20vomiting%2C%20the%20so%20called%20%22pediatric%20contusion%20syndrome%22.
WE DON'T GET PAID UNTIL YOU DO!
Free Initial Consultation
630-665-5678
Our attorneys aggressively pursue every avenue to ensure that you are properly compensated for your pain and suffering, medical costs, or lost wages as soon as possible. You pay nothing until you receive the judgment or settlement you deserve.