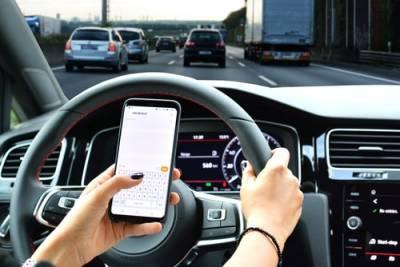 Today's modern technology has changed the way we live compared to just decades ago. Cellular or mobile phones allow us to communicate while on the go. They can come in handy when you find yourself stranded with a flat tire on the side of the road and need to call for help. However, cell phones are one of the leading causes of distracted driving. According to reports from the National Safety Council (NSC), driving while using a cell phone leads to 1.6 million automobile accidents every year in the United States. That means one out of every four car crashes is caused by texting and driving. There are other distractions behind the wheel that can lead to a serious car accident with injuries to the driver as well as any passengers, pedestrians, or other motorists.
Activities that Take a Driver's Attention Off the Road
If a motorist takes his or her eyes off the road ahead even for a few seconds, that greatly reduces the time he or she has to stop in time if the car in front suddenly brakes. You may be able to see this negligent behavior in drivers next to you. A few examples of actions that reduce a driver's ability to operate a vehicle safely by limiting his or her reaction time include:
Looking down at the phone
Chewing/eating
Talking to passengers
Applying makeup
Waving hands or yelling
Operating navigation system
Recognizing a Distracted Driver
As a motorist, it is important to drive defensively and notice distracted driving behaviors around you while you are operating your vehicle. In some situations, signs that a person may be distracted includes swerving between lanes without using a turn signal. This is likely because he or she does not have both hands on the wheel. Other signs that a motorist is distracted include driving erratically by slowing down and then speeding up again. Constantly hitting the brakes is a typical indicator that a driver is not paying attention and then tries to stop at the last minute.
If you or your loved one was involved in an accident, you may be able to prove the other driver was distracted. By looking at his or her cell phone records, it can show the date and time calls or text messages were made. In addition, bystanders or eyewitnesses may have seen the driver brushing his or her hair, unwrapping a candy bar, or dialing numbers on his or her mobile phone. Regardless of the circumstances of your crash, it is imperative that you discuss your case with an experienced personal injury attorney to find out your legal options for securing compensation.
Contact a Bloomingdale Personal Injury Lawyer
A car accident can result in a minor annoyance, but it can also cause devastating injuries that require surgery or rehabilitation. In many cases, reckless or distracted driving behaviors cause a collision. At The Law Offices of David W. Clark, P.C., we have more than 20 years of experience assisting personal injury victims seek appropriate compensation for their damages, including vehicle repairs and medical bills. Our seasoned DuPage County car accident attorneys will make sure your rights are protected every step of the way so you can get on with your life. Call us today at 630-665-5678 to arrange your free consultation.

Sources:
https://www.ilga.gov/legislation/ilcs/fulltext.asp?DocName=062500050K11-402
https://www.ilga.gov/legislation/ilcs/fulltext.asp?DocName=062500050K11-406
https://www.ilga.gov/legislation/ilcs/fulltext.asp?DocName=062500050K11-401
https://www.nhtsa.gov/risky-driving/distracted-driving
WE DON'T GET PAID UNTIL YOU DO!
Free Initial Consultation
630-665-5678
Our attorneys aggressively pursue every avenue to ensure that you are properly compensated for your pain and suffering, medical costs, or lost wages as soon as possible. You pay nothing until you receive the judgment or settlement you deserve.