What Are the Most Common Causes of a T-Bone Car Accident?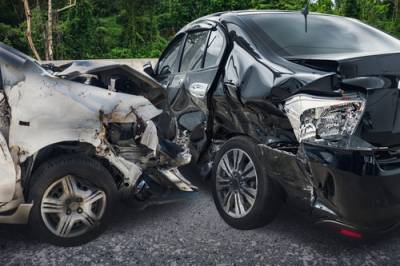 There are many factors that can lead to a car accident, including weather conditions, driver error, and fault equipment. Regardless of the reasons for a crash, the consequences can be devastating. Although many fender-benders result in only minor injuries, head-on and side-impact collisions can cause severe to even fatal injuries. Often referred to as a "T-bone" crash, a side-impact accident occurs when the side of one or more vehicles is impacted. These crashes are common at intersections, in parking lots, or on multi-lane highways. According to statistics, more than 3 million broadside crashes occur in the United States every year. Even at low speeds, side-impact car crashes routinely cause serious injuries to the occupants of the struck car.
Reckless Driving Behaviors
Drivers are expected to follow the rules of the road once they obtain their driver's licenses. This includes operating their vehicles in a safe and responsible manner. When motorists are acting recklessly or are impaired, this can increase the chances of them losing control and striking another vehicle. For example, an intoxicated driver does not have the same quick reflexes of a sober driver. Similarly, texting behind the wheel takes a driver's eyes off the road for valuable seconds.
In other scenarios, defective equipment can cause the brakes or steering to fail. In those cases, the vehicle manufacturer may be held liable for any injuries caused by a crash. The typical scenarios in which a T-bone collision occurs include:
Failure to yield the right of way at an intersection
Speeding
Illegal left turn
Running a red light
Driving under the influence (DUI)
Distracted driving
Drowsy driving
Faulty vehicle parts
Lasting Consequences
One of the main differences in a T-bone crash compared to a rear-end or head-on crash is the amount of protection between passengers and the oncoming vehicle. In the latter accidents, the trunk and engine take a significant amount of the impact. However, in a side-impact collision, there is only the door and/or window in between the occupant and an approaching vehicle. Depending on the speed that an automobile is traveling, being broadsided can prove to be one of the most deadly types of vehicle accidents.
The injuries sustained in a T-bone accident can be severe and life-threatening. A person may have to go through extensive physical therapy or undergo several surgeries. In some cases, a victim may not be able to live without around-the-clock care or assistance. Emotional scars may also be long-lasting, leaving a victim with anxiety, depression, sleeping or eating disorders, and concentration problems.
A few of the most significant injuries or conditions that can occur as a result of being hit by a negligent driver include:
Spinal cord damage/paralysis
Traumatic Brain Injury (TBI)
Broken arm or legs
Post-traumatic stress disorder (PTSD)
Contact a Bloomingdale Personal Injury Attorney
Any type of car accident can result in significant injuries, but a side-impact crash is especially dangerous to the occupants. The Law Offices of David W. Clark, P.C. have more than 20 years of experience helping victims of vehicle collisions recover damages for their pain and suffering, lost wages, and medical treatments. Our dedicated DuPage County car accident lawyers give our clients the personalized attention they need and deserve. Call us today at 630-665-5678 to make an appointment for your free consultation.
Sources:
http://www.ilga.gov/legislation/ilcs/fulltext.asp?DocName=062500050K11-401
https://www.ncbi.nlm.nih.gov/pmc/articles/PMC3217542/
WE DON'T GET PAID UNTIL YOU DO!
Free Initial Consultation
630-665-5678
Our attorneys aggressively pursue every avenue to ensure that you are properly compensated for your pain and suffering, medical costs, or lost wages as soon as possible. You pay nothing until you receive the judgment or settlement you deserve.