What Are the Most Common Restaurant Work Injuries?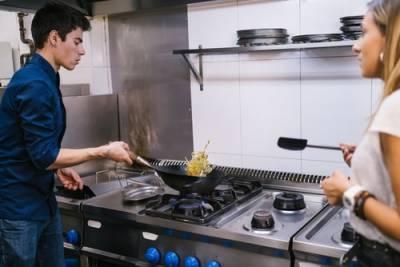 Working at or owning a restaurant can be a very rewarding career. Whether someone is a hostess, server, chef, or manager, this can be a fast-paced and exciting job. However, like in other industries, there is the possibility of accidents with injuries. These can range from minor to serious and even fatal. In Illinois, the Workers' Compensation Commission resolves disputes between employees and employers for injuries and illnesses that are sustained on the job. This is a no-fault insurance benefits program that most companies are required to carry. In some cases, a workers' compensation claim may provide financial relief to an injured or disabled worker.
Typical Accidents at Food Establishments
Restaurants may consist of a large staff that performs many different jobs. Regardless of the type of food being served, most kitchens' food preparation involves cutting, chopping, sauteing, baking, in addition to cleaning. This work environment can be prone to certain types of accidents and injuries, including but not limited to the following:
Punctures and Lacerations: Due to frequent use of knives or cutting machines as well as broken dishes or glassware, restaurant staff members may suffer cuts or deep puncture wounds.
Burns: From boiling water to fryers and gas stovetops, heat and water burns can also cause a significant hazard for restaurant workers. Depending on the situation, a worker can suffer first-, second-, or third-degree burns.
Back and neck injuries: If an item such as a large canned good is stacked too high could fall on an employee, inflicting damage on the spinal cord, neck, or even causing head trauma. These kinds of injuries are also common when doing repetitive motion, often found in large-scale or fast-food establishments.
Sprains and strains: Product or inventory that is misplaced or on hard-to-reach shelves can cause worker injury due to overreaching. Employees can also slip and fall on liquid or other debris in the aisles or kitchen area, which often result in sprained ankles. Restaurant workers can also suffer from strains when they are lifting heavy boxes or bags.
Eye damage: Grease that splatters from a grill can hit a worker's face and go into his or her eyes. In addition, toxic cleaning solutions or chemicals typically used in foodservice environments can also lead to blindness.
Electrocutions: Some older restaurants or diners may have faulty or makeshift wiring for their appliances or damaged/worn electrical cords. If there is standing water due to spills, it can lead to an employee being electrocuted.
Workers' Compensation Claim
Filing a workers' compensation claim can help restaurant industry employees by covering fees related to work-related injuries, medical bills, and lost wages. If a restaurant is robbed and a worker gets hurt during the commission of the crime, his or her injuries may also be covered under workers' comp. In order to receive benefits, an injured employee must notify his or her employer of the accident that caused the injury at work. This notification can be given in writing or verbally 45 days of the date of the injury.
Contact a Wheaton Workplace Injury Lawyer
People of all ages work at restaurants, from teenagers to senior citizens. As with any job, there are certain risk factors workers may face in the food industry. A dedicated DuPage County workers' compensation attorney can help you file a claim for your pain and suffering, as well as lost income. At the distinguished Law Offices of David W. Clark, P.C., we have obtained multi-million dollar settlements in a wide range of personal injury and workers' compensation cases. Call us today at 630-665-5678 to schedule your free consultation.

Sources:
https://www2.illinois.gov/sites/iwcc/about/Pages/default.aspx
https://www.qsrmagazine.com/news/top-four-restaurant-injuries
WE DON'T GET PAID UNTIL YOU DO!
Free Initial Consultation
630-665-5678
Our attorneys aggressively pursue every avenue to ensure that you are properly compensated for your pain and suffering, medical costs, or lost wages as soon as possible. You pay nothing until you receive the judgment or settlement you deserve.