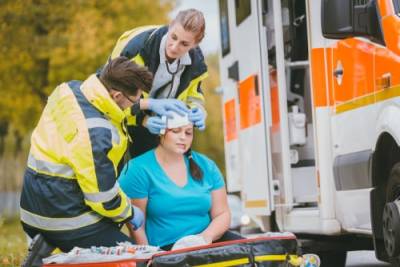 Unfortunately, car accidents are a reality on our nation's roadways. Regardless if it is a highway or a rural street, collisions occur on a frequent basis for a number of reasons. In many cases, a crash is due to the reckless behavior or negligent actions of another driver. If a vehicle is traveling at a high rate of speed, the force of the impact when it collides with another vehicle or object can cause catastrophic injuries. Occupants can hit their heads on the windshield or dashboard, resulting in serious head trauma. Many head injuries also affect the brain, which can lead to a long recovery, including surgeries or months of rehabilitation. In some cases, a head injury can prove fatal. If you or your loved one suffered because of an automobile accident, it is crucial that you seek the guidance of a personal injury attorney to explore your legal options for securing compensation.
Closed Head Injuries
An injury to the head that does not go through the skull is considered a closed head injury. Closed head injuries can range from minor to life-threatening. This type of injury can cause broken bones to the face or skull, in addition to significant damage to the brain, including:
Bruising of the brain
Concussion
Bleeding on the brain (intracranial hemorrhage)
Symptoms of a closed head injury may include dizziness, headache, nausea, vomiting, and more. These signs and symptoms can start immediately following an accident or even days later, and for some, they can last for weeks or months. In severe cases, a victim can be in a coma and may need to be put on life support.
Open Head Injuries
An open head injury occurs when an object breaks or penetrates the skull and enters the brain. This typically happens when a passenger goes through the windshield in a car crash. Although injuries that penetrate the skull can be life-threatening, they are generally less dangerous than injuries that also penetrate the brain. Anytime a foreign object makes contact with the brain, permanent brain damage can result, as well as severe bleeding/hemorrhaging and blood clots in some victims.
There are four main types of skull fractures:
Linear skull fractures - A crack in the skull, without any penetration in the brain
Diastatic skull fracture - The skull's regions are separated
Depressed skull fracture - Broken pieces of the skull come in contact with the brain, constricting major blood vessels
Basilar skull fracture - The base of the skull breaks, tearing tissue that holds the brain in place, damaging the spinal cord
Other life-threatening injuries can also occur, so it is vital to seek emergency medical attention right away. Never try to remove an object on your own.
Contact a Bloomingdale Personal Injury Attorney
A motor vehicle crash can result in all sorts of injuries, affecting all parts of a passenger's body. However, a head injury can be particularly debilitating, leading to loss of independence and requiring long-term care in some situations. An accomplished DuPage County car accident lawyer will carefully review the circumstances of your case to determine liability and hold any negligent parties responsible. The Law Offices of David W. Clark, P.C., possess more than 20 years of experience helping injury victims pursue adequate compensation for their damages, including pain and suffering. To schedule your free consultation, call us today at 630-665-5678.
Sources:
https://www.ilga.gov/legislation/ilcs/fulltext.asp?DocName=062500050K11-401#:~:text=(a)%20The%20driver%20of%20any,the%20scene%20of%20the%20accident
https://www.cyberdriveillinois.com/publications/pdf_publications/cc_pub4.pdf
https://medlineplus.gov/ency/article/000028.htm
WE DON'T GET PAID UNTIL YOU DO!
Free Initial Consultation
630-665-5678
Our attorneys aggressively pursue every avenue to ensure that you are properly compensated for your pain and suffering, medical costs, or lost wages as soon as possible. You pay nothing until you receive the judgment or settlement you deserve.