What Conditions Cause the Most Illinois Motorcycle Accidents?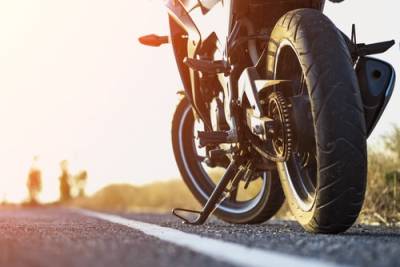 Hitting the open road on a motorcycle can be exhilarating. These types of vehicles are enticing for those who like to feel the wind in their hair, so to speak. Traveling on a motorcycle allows the rider to see more of his or her surroundings and enjoy the scenic views. Although not as confining as an automobile, a motorized bike features less protection for its driver and a passenger compared to other vehicles. In some cases, a collision can result in serious to fatal injuries since the motorcyclist does not have anything to act as a buffer to break the impact of a collision. According to the National Highway Traffic Safety Administration (NHTSA), in 2018, there were 4,985 motorcyclists killed in crashes. Victims of a motorcycle accident may be able to seek damages from those who are held liable for causing damages and injuries.
Risk Factors for Motorcyclists
There are several factors that can increase the chances of a motorcycle accident, including weather and road conditions. In addition, a motorcyclist cannot control another driver's behavior. Unfortunately, many motorists do not believe that motorcyclists have the same rights as far as sharing the road. In some cases, a driver may not think a driver of a motorcycle has the right of way at an intersection, or they may simply not see them if they are not paying close enough attention to their surroundings.
Here are a few of the most common issues that can contribute to the likelihood of a motorcycle crash with injuries:
Time of day/night: Studies show that the highest number of reported motorcycle accidents occurs between 3 pm and 9 pm. It is hard to see at dusk and when it is pitch-dark out, so that is why motorcyclists are encouraged to wear reflective clothing to increase their chances of being seen by other motorists.
Rural locations: Country roads are often neglected thus impassable, endangering any driver who tries to cross them.
Negligent drivers on the road: Distracted or drunk drivers do not have the adequate reflexes or reaction time to avoid a crash.
Inclement weather: Heavy rain, flooding, wind, snow, ice, and fog can reduce visibility and cause roads to become slick, making it more difficult to safely turn or stop a motorcycle.
Poor road surfaces: Uneven pavement, potholes, rocks, or debris that has not been cleared from the street or even roads that are under construction can cause a driver to lose control of his or her bike, colliding with a car or a cement median.
Wrongful Death
Any type of injury can have debilitating effects, but motorcyclists are especially susceptible to serious and fatal injuries due to their lack of protection on the road. This also means the lives of a victim's loved ones may be affected, too. If a person is unable to work and is the sole breadwinner of the family, this can impact the family's well-being. Because of this, compensation may be awarded for the pain and suffering the wrongful death caused relatives, even if they were not hurt in a crash.
Contact a DuPage County Personal Injury Lawyer
If you or your loved one was injured in a motorcycle accident, the consequences may be long-lasting. At the Law Offices of David W. Clark, P.C., we understand the physical and financial impact any type of vehicle crash can have on drivers and passengers. If you were recently hurt due to another person's or company's negligence. Our dedicated Wheaton motorcycle accident attorneys will help you recover damages if you have suffered physically and emotionally. Call our office today at 630-665-5678 to schedule a free consultation.

Sources:
http://www.ilga.gov/legislation/ilcs/ilcs3.asp?ActID=2375&ChapterID=67
https://www.nhtsa.gov/road-safety/motorcycle-safety
WE DON'T GET PAID UNTIL YOU DO!
Free Initial Consultation
630-665-5678
Our attorneys aggressively pursue every avenue to ensure that you are properly compensated for your pain and suffering, medical costs, or lost wages as soon as possible. You pay nothing until you receive the judgment or settlement you deserve.