What Types of Accidents Can Cause a Torn Rotator Cuff?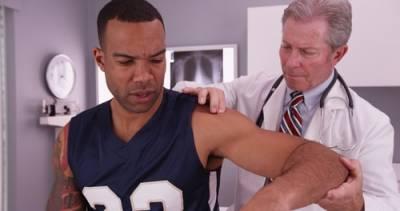 Accidents often occur when people least expect it. Depending on the situation, a person can suffer minor bumps and bruises to severe and long-lasting complications. Injuries can happen even when safety precautions are taken. However, they can also take place due to another party's negligence. A common shoulder injury is a torn rotator cuff. Although typical in sports-related accidents, tears in the rotator cuff can occur as a result of falling onto hard pavement after slipping and falling or sudden impact such as from a car accident. It is important for anyone who is involved in those types of accidents to seek medical attention and then consult a personal injury attorney to determine liability for your pain and suffering.
Signs and Symptoms of a Rotator Cuff Tear
The rotator cuff is a group of four muscles and tendons that stabilize the shoulder joint and allows an individual to lift and rotate his or her arms. There are two different types of rotator cuff tears. A partial tear is when the muscle that forms the rotator cuff becomes damaged. A complete tear pulls the tendon off of the shoulder bone.
It is not uncommon for a torn rotator cuff to be mistaken for a pulled muscle at first. In some cases, a person may experience the following conditions:
Difficulty raising the arm
Pain when moving the arm in certain ways or lying on it
Weakness in the shoulder area
Inability to lift objects
Clicking or popping sound when moving the arm
Accidents Can and Do Happen
Any type of vehicle collision can cause significant injuries, including lacerations, broken bones, or a torn rotator cuff. In a rear-end collision, if a driver or passenger hears screeching brakes or honking and they look in the rearview mirror, they often tense up and brace for the impact by clutching the steering wheel or door handle. Because the body is not in an unrelaxed state, the shoulder may absorb quite a bit of the force upon impact. A tear to the rotator cuff is, therefore, a possibility from this type of crash. In many cases, the reckless actions of another driver can cause a collision. Negligent behavior behind the wheel can include distracted, drowsy, or drunk driving.
Another type of incident that can result in a torn rotator cuff for a victim is a slip-and-fall accident. When someone trips on uneven pavement or loses his or her balance after slipping on a wet or oily surface, he or she can land on his or her arm and shoulder area. In these cases, a property owner may be held accountable for your damages if he or she did not follow proper safety and cleaning procedures to ensure a safe environment for guests or visitors.
Contact a Wheaton Personal Injury Lawyer
A shoulder injury may seem minor at first, but it can significantly affect a person's everyday life. A torn rotator cuff can require surgery and extensive rehabilitation, which could lead to costly medical bills and lost income The Law Offices of David W. Clark, P.C. have more than 20 years of experience assisting injury victims recover damages for their accidents. P.C. Our skilled DuPage County shoulder injury attorneys provide personalized attention that you need and deserve for seeking compensation. Call us today at 630-665-5678 to schedule your free consultation.

Source:
https://www.webmd.com/pain-management/rotator-cuff-tear#:~:text=A%20rotator%20cuff%20tear%20is,arm%20or%20lift%20something%20heavy.
WE DON'T GET PAID UNTIL YOU DO!
Free Initial Consultation
630-665-5678
Our attorneys aggressively pursue every avenue to ensure that you are properly compensated for your pain and suffering, medical costs, or lost wages as soon as possible. You pay nothing until you receive the judgment or settlement you deserve.