Who Is Liable for an Illinois Snowmobiling Accident Injury?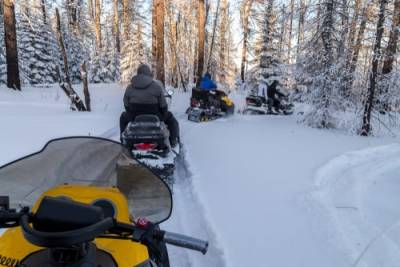 Wintertime is an opportunity for engaging in snow sports, such as sledding, skiing, snowboarding, ice skating, and snowmobiling. The snowmobile was originally used to transport people and supplies when traditional vehicles could not get through heavy snow. Snowmobiling has evolved to become a popular winter sport enjoyed by millions of people of all different ages. For those who do not mind the cold, it is an ideal way to get outside and enjoy the winery landscape. It is important to note, however, that modern snowmobiles can weigh in excess of 600 pounds and travel at speeds of 90 miles per hour or higher. Studies show that snowmobile accidents cause approximately 200 deaths and 14,000 injuries each year in the United States. Many factors can cause a snowmobile crash, including the negligent actions of other drivers or manufacturers of the vehicle.
Common Snowmobile Injuries
Many people take their snowmobiles out for rides in wooded areas due to the breathtaking landscape with snow-covered trees. However, this can also prove dangerous and put riders at great risk. The high speeds combined with the terrain can result in deadly consequences if a person crashes while snowmobiling. If an operator loses control of the snowmobile, he or she can strike a tree, rock, or snowbank.
In addition, a rider can collide head-on with another rider if one of them cannot turn out of the way in time. Helmets and other protective gear such as goggles, gloves, jackets, and snow pants can help protect a driver and any passengers by alleviating some of the injuries in a collision, but they cannot prevent them altogether. In some situations, a snowmobile may flip over and land on top of a rider and his or her passenger, crushing them. Not only can they suffer significant injury from the sheer weight of the vehicle landing on them, but if they lose consciousness, they could be exposed to the frigid temperatures for a period of time until help arrives. That is why it is always a good idea to travel in pairs or alert others when and where you are going.
A few of the most common injuries suffered when riding a snowmobile include:
Broken bones/fractures
Lacerations and contusions
Head trauma (concussions, traumatic brain injury)
Internal bleeding/organ damage
Spinal cord damage
Hypothermia
Negligence Can Take Many Forms
In Illinois, the Snowmobile Registration and Safety Act promotes safety for persons and property in and connected with the use, operation, and equipment of snowmobiles. In addition, the Act was created to promote the uniformity of laws related to snowmobiling. Manufacturers of these types of recreational vehicles have a duty of care to make sure that their products are safe for consumer use. For example, any product should undergo a quality check or inspection before being sold to the public. A defective part or a piece of equipment that is not secured properly can come loose, causing the snowmobile to malfunction. If headlights go out suddenly or brakes do not work, this lack of routine maintenance can directly lead to a crash.
In some cases, a snowmobile rider may have consumed alcohol or drugs before venturing out, which means he or she is impaired, similar to driving a car while drunk. Therefore, he or she is incapable of operating the vehicle safely. Reaction time is slowed, as well as visibility, which is crucial if snow is blowing or drifting, or if it is dark outside. Snowmobilers may inadvertently travel onto a roadway, where they may be at risk of being struck by a vehicle.
The following are typical actions that can cause a snowmobile accident:
Intoxication
Speeding
Inclement weather conditions
Faulty equipment or parts
Inadequate maintenance
Contact a DuPage County Personal Injury Attorney
An accident involving a snowmobile can cause serious to fatal injuries due to the nature of the vehicle. Although riders may take every precaution, other reckless snowmobilers may collide with you, or a faulty part may lead to injuries. If you or your loved one was hurt in a crash, a negligent party may be held responsible for your damages. A qualified, tenacious Bloomingdale personal injury lawyer can help you with the legal process of pursuing compensation. At The Law Offices of David W. Clark, P.C., we are committed to achieving a positive outcome so you can move on with your life. To schedule a free consultation, call us today at 630-665-5678.
Sources:
https://ilga.gov/legislation/ilcs/ilcs4.asp?DocName=062500400HArt%2E+VI&ActID=1825&ChapterID=49&SeqStart=5900000&SeqEnd=6200000
https://www.ilga.gov/legislation/ilcs/ilcs4.asp?ActID=1815&SeqStart=118400000&aSeqEnd=120100000
https://www.ilga.gov/legislation/ilcs/ilcs4.asp?DocName=062500400HArt%2E+X&ActID=1825&ChapterID=49&SeqStart=6900000&SeqEnd=7300000
https://pubmed.ncbi.nlm.nih.gov/12671482/#:~:text=Each%20year%20snowmobile%20accidents%20produce,the%20leading%20causes%20of%20accidents.&text=Reduction%20in%20injury%20and%20death,accomplished%20through%20education%20and%20legislation.
WE DON'T GET PAID UNTIL YOU DO!
Free Initial Consultation
630-665-5678
Our attorneys aggressively pursue every avenue to ensure that you are properly compensated for your pain and suffering, medical costs, or lost wages as soon as possible. You pay nothing until you receive the judgment or settlement you deserve.