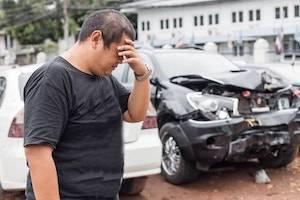 Car accidents can happen anytime, anywhere. However, your odds of getting into a car accident are higher at certain locations and certain times of the day. Being aware of these risk factors can help you avoid accidents and practice defensive driving.
When Do Car Accidents Occur?
Nighttime accidents are especially dangerous. About 49 percent of fatal crashes occur at night. That means that the fatality rate per mile is three times higher at night than in the day. A key factor in the number of fatalities at night is seat belt use. Of nighttime fatalities, about 65 percent of motorists were not wearing a seat belt.
Another dangerous time to drive is in the late afternoon and early evening when people are driving home from work. More people on the road—especially people who are tired and ready to relax—create this risk.
Where Do Car Accidents Occur?
Collisions often take place within 25 miles of one's home. There are two reasons for this. First, people drive the most in the area around their home. Thus, the chances are greater that is where your accident will occur. Second, drivers tend to be less aware in familiar areas. Repetition in driving tends to relax the driver.
Many people drive home on their regular commute only to arrive home and barely remember the drive. Drivers tend to go on auto-pilot and do not rely on active driving skills. Going on auto-pilot means that drivers will pay less attention to the road and to driving.
While you may know every turn in the road, you cannot control the weather, new roadway conditions, other drivers, animals, or mechanical problems. Experts advise that staying alert and wearing your seat belt at all times is the best way to prevent accidents and injury.
Many people use the excuse of only going a short distance for not wearing a seat belt. This is short-sighted since so many people get in accidents in the vicinity of their homes.
Contact a Bloomingdale, IL Car Accident Lawyer
The skilled Bloomingdale auto accident attorney at the Law Offices of David W. Clark, P.C. has the experience needed to represent car collision victims. Our firm prides itself on providing client-centered services, and we will work hard to get you the compensation you deserve under the law. Contact our office today at 630-665-5678 to schedule your first meeting.
Sources:
https://www.forbes.com/2009/01/21/car-accident-times-forbeslife-cx_he_0121driving.html
https://www.esurance.com/info/car/where-car-accidents-happen-most
WE DON'T GET PAID UNTIL YOU DO!
Free Initial Consultation
630-665-5678
Our attorneys aggressively pursue every avenue to ensure that you are properly compensated for your pain and suffering, medical costs, or lost wages as soon as possible. You pay nothing until you receive the judgment or settlement you deserve.