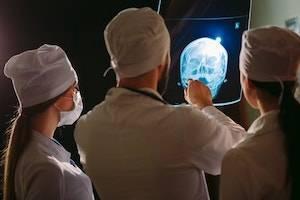 Head injuries are commonly sustained in accidents such as car crashes and slip and falls. This is because the brain is vulnerable and more susceptible to injury. Unfortunately, the head is also one of the most difficult body parts to treat because of its complexity and because so many bodily processes involve the brain. Treatment for brain injuries can be varied and long-term.
Often, the extent of a head injury, which includes traumatic brain injury (or TBI), is not known in the direct aftermath of an accident. Therefore it is critical that accident victims not take a quick settlement offer before the full nature of the injury is known and until they can meet with a lawyer.
Initial Treatment for Head Injuries
For mild concussions, typically monitoring for worsening symptoms and rest is all that is required. For more severe injuries, surgery may be required to remove foreign objects that have lodged in the head or to treat blood clots.
A person with a severe head injury may also be induced into a coma to reduce demand on the brain while the brain is healing. Anti-seizure drugs and diuretics are also commonly administered.
Rehabilitation for Brain Injuries
Due to the range of complications head injuries can cause, there are numerous treatments that may be prescribed. The following types of medical professionals may be used in rehabilitation:
A physiatrist will oversee all care in the rehabilitation process;
An occupational therapist will work on skills needed to perform everyday activities;
A physical therapist will help the victim regain mobility and relearn movements;
A speech and language pathologist will focus on communication skills; and
A neuropsychologist will gauge cognitive impairment and performance;
If you or a loved one have sustained a head injury, you deserve the best treatment available. Even with state-of-the-art treatment, brain injuries rarely fully resolve. For this reason, it is important to seek legal counsel and medical experts. These professionals can assess your recovery and provide the best estimate as to your true loss.
For example, if medical experts testify that you will not be able to work full-time, a financial expert can be retained to determine the true extent of how much money you will lose over your lifetime in order for you to be fully compensated by the at-fault party.
These are complex calculations that must be done so that the accident victim can be made whole.
Contact a Bloomingdale, IL TBI Lawyer
The attorney at the Law Offices of David W. Clark, P.C. has helped many accident victims with complex injuries make their best case in court.
Our firm usually accepts brain injury cases on a contingency fee basis. This means that we do not charge attorney's fees upfront. Attorney's fees are only charged when our clients receive a settlement (usually from an insurer) or a money judgment (made by a court).
The skilled Bloomingdale brain injury attorney at the Law Offices of David W. Clark, P.C. can be reached at 630-665-5678. Call today for your free consultation.
Source:
http://www.biausa.org/brain-injury-treatment.htm
http://www.mayoclinic.org/diseases-conditions/traumatic-brain-injury/basics/treatment/con-20029302
WE DON'T GET PAID UNTIL YOU DO!
Free Initial Consultation
630-665-5678
Our attorneys aggressively pursue every avenue to ensure that you are properly compensated for your pain and suffering, medical costs, or lost wages as soon as possible. You pay nothing until you receive the judgment or settlement you deserve.