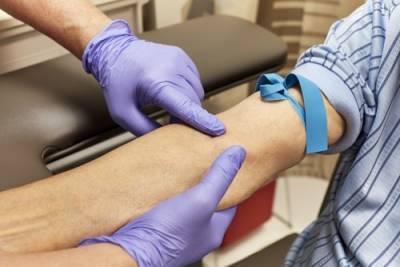 Blood and plasma donors help save lives. Donated blood and plasma are used for a wide variety of life-saving techniques that benefit thousands of people every day. Blood transfusions are needed on a daily basis in hospitals across the country. Plasma is used in the treatment of serious disorders such as hemophilia and immune system deficiencies, and to treat victims of shock and burns. Plasma donation has become popular due to the cash incentive since donors get paid for their donations, typically in the form of VISA gift/debit cards. As with a lot of medical professions, lab technicians at these facilities can injure themselves while performing certain job tasks. If you are hurt working in a blood or plasma donation center, you might be eligible for worker's compensation benefits.
Job Duties
Lab technicians who work at blood or plasma donation centers screen candidates for their compatibility as donors. The plasma technicians use automated machines that collect the donors' blood, which separates blood components, retains the plasma, and returns the remaining blood components to the donors.
In addition to collecting and processing the blood or plasma, technicians might have duties that include cleaning the lab center and counting inventory. This could require manual labor, such as lifting and reaching for objects, sweeping and mopping floors, or even moving furniture. Employees could also provide routine maintenance on computers or machines, as well as administrative duties such as answering phones and helping donors complete paperwork.
...