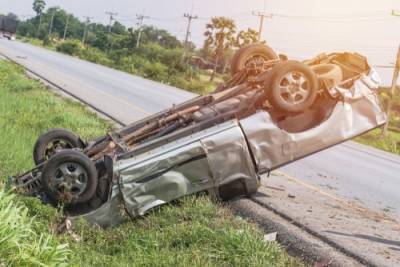 Vehicle collisions are often traumatic incidents which can cause injury or death. Car accidents themselves are bad enough, but if your vehicle rolls over it can be even more traumatic. Safety measures have advanced greatly in recent years, but a rollover is still one of the most deadly types of serious crashes.
Even though vehicle rollovers only happen in about 3% of major crashes, they cause around 30% of deaths in passenger vehicles. Injuries or death due to vehicle rollovers can be decreased with more people wearing seat belts, better safety measures, and vehicle designs that focus on rollover avoidance. Until more of those measures are put in place, drivers should focus on learning what causes rollovers and how to prevent them.
Causes
Most rollovers are caused by a vehicle swerving onto something such as a median, curb, or pothole. When a vehicle swerves onto a pothole or something similar, it is called "tripping" because the vehicle is tripping over the obstacle and rolling over. When vehicles "trip" over obstacles, they are thrown off balance and much more likely to roll over.
...