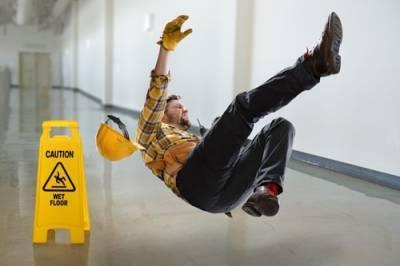 According to the United States Bureau of Labor Statistics, slips, trips, and falls were the second leading cause of nonfatal injuries to workers in the U.S. and the third leading cause of fatal injuries to workers in 2016. Slips, trips and falls can cause serious injuries to workers and can result in you having to spend days away from work to heal broken bones or pulled muscles. Depending on the severity of your injuries, slips, trips and falls can render you permanently disabled from a spinal cord injury or even a brain injury.
Fluids or debris on the floor: One of the most common reasons employees slip or fall is because there is something on the floor that is making it slippery. Liquids or dry debris can both make the floor slippery and unsafe. Examples of these hazards can include:
Water;
Grease;
Soap;
Ice or snow;
Dust, powder or granules; and
Freshly mopped or waxed floors.
Walking surface irregularities: Trips, especially, can happen where there is no consistency in walking surfaces when there should be. These irregularities can be both indoors and outdoors. Walking surface irregularities can include:
...